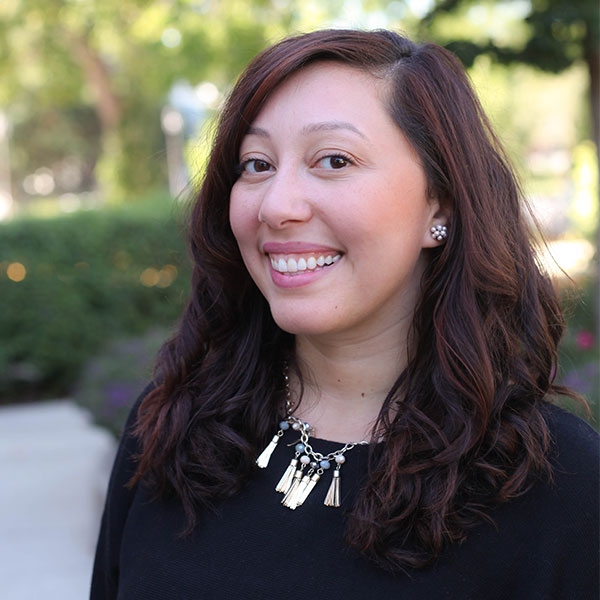 Assistant Director
Pronouns She/Her/Hers
Office Address (Building and Room): Foster Walker, House 6, Room 6117 (1927 Orrington Ave)
Phone: 847.467.5899
Where do you call home?

I grew up on the Northwest side of Chicago, specifically Hermosa and Avondale. I have a deep, deep complicated love for Chicago.

What do you do at Northwestern?

I work with first-generation, low-income, and undocumented students to find the resources, community, and support they need to thrive at Northwestern. In addition, I advise Quest+, the only low-income student group on campus. My proudest achievement at NU was taking on Compass after the 2015-2016 pilot year and building out the curriculum, structure, and mentor development utilizing student feedback. Compass is a very special space at NU and has introduced me to the most incredible students.

What groups/committees/communities are you a part of at NU?

CIC Onboarding & Selection Committee 

What are you passionate about?

I am passionate about making Northwestern a place where FGLI students can find support, community, and joy. I feel very honored to do this work at this important time at Northwestern. In addition to FGLI students, I am passionate about prison reform, spirituality and wellness, community college student college persistence, and initiatives that create systemic change.

What are some moments/accomplishments/projects you have been proud of?

I am very proud of being a first-generation, Puerto-Rican from a working-class family - my parents' love, commitment, resilience, and resistance is what got me here and that will always be a part of me. I am most proud of them. My personal biggest accomplishment was completing El Camino de Santiago, the 500 pilgrimage across the northern part of Spain, back in 2013. I LOVE to chat about it :)

Where can you be found around campus?

More often than not - I am in our little space in Foster-Walker. When I need a mental health break I love to take a walk to Colectivo for a Dulce de Leche Latte with Oatmilk or an Almond Milk Bubble Tea from Kung Fu Tea!

What do you like to do in your spare time?

I am currently a PhD student at Loyola's School of Social Work, so my free time is spent doing readings for class, writing papers, and working on research teams. When I do get some free time I love to explore the city with my family and partner, try out different brunch spots, work on my PopSugar reading list, or go thrifting!