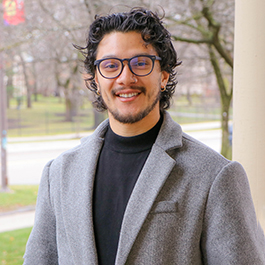 Assistant Director
Pronouns: he/him
Office Address: Foster/Walker, House 6, 1927 Orrington, #6104
Phone: (847)491-5591
Where do you call home?
What do you do at Northwestern?

I serve as one of the Assistant Directors in Student Enrichment Services.

What groups/committees/communities are you a part of at NU? 

Knight Community Scholars and more to come!

What are you passionate about?

I am passionate about showing up and working for/with students to achieve their unique definition of success despite the hurdles we may encounter. I am passionate about holding space for folks to engage in reflection and dialogue as self-directed scholars and agents for change. Last but not least, I am passionate about identifying and promoting peace.

What are some accomplishments/projects you have been proud of?

I am the proudest of my mom for establishing a home, ethic, and framework that centers community care and learning in a foreign country which granted me the opportunity to become a first-generation graduate and scholar practitioner. Additionally, I am proud to show up authentically and confidently in the face of the dominant narrative.

Where can you be found on campus?

THE AMAZING SES Office in Foster-Walker House 6! I will continue to explore campus and am eager to learn about and check out folks' favorite spaces!

What do you like to do in your spare time?

I can be found doing anything from trying to keep up with music trends (bachata, rap, reggaeton, cumbia, Japanese jazz, etc.), listening to podcasts like Invisiblia or The Read, keeping up with Arsenal and Barcelona's seasons, working out, playing sudoku, hiking, dancing, or hanging out with family and friends. I am reintegrating into the city after 6 years – please share your favorite neighborhoods, restaurants, bakeries, bookstores, parks/trails, and coffee shops!