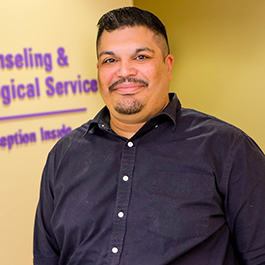 Staff Therapist | Evanston CAPS
My name is Nick Jenkins and I am a therapist here at Northwestern University's CAPS. I have been here at CAPS since June 2022 and in addition to being a therapist, I am also the liaison for First Generation and Low Income College Students. Coming to Northwestern is a bit of a homecoming for me as I was born and raised here in Evanston. I am fully Illinois educated as I went to undergrad at University of Illinois and graduate school at Southern Illinois University where I have a degree in Counseling Psychology. Since graduate school, I have spent the past 14 years working in university mental health at University of Wisconsin-Madison and Marquette University. Part of the draw of university mental health is being able to provide both counseling to the university community but also engage with the community on a different level through providing outreach, advocacy and other services.

My clinical areas of interest include anxiety, multicultural issues, depression, grief, career indecision, relationship concerns, identity and self-image. After all of these years, I still love providing counseling and appreciate that I have the ability to get to know and help people explore who they are and work through the issues impacting them. Beyond my work interests, I have a strong interest in the culinary arts and have even been involved in cooking/baking competitions. I'm also quite good at trivia due to my love of tv and movies. If you see me on campus, please always feel welcome to say hello!