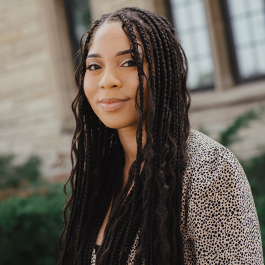 Staff Therapist / Eating Concerns Coordinator
Hi, I am Fallon. I joined CAPS in September of 2022. I am a Licensed Clinical Social Worker. I believe that therapy can be such a regenerative process for all. In my time as a therapist, I have had the pleasure of working with many diverse and vulnerable populations and those struggling with day-to-day life stressors. I strive to create an environment where you feel safe, welcomed, and without judgment. I take pride in being my authentic self in sessions in the hope that the people I support feel inspired to do the same.
My clinical interest includes anxiety, depression, perfectionism, and stress management. I am trained in Cognitive Behavioral Therapy, Dialectical Behavioral Therapy, and Motivational Interviewing. I work quite intensively with those who struggle with disordered eating/eating disorders as well as those struggling with body image.  Outside of therapy, I enjoy spending time with family, friends, and my clingy cat named Bullet. I am also known to be very creative and crafty.