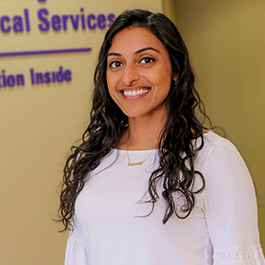 Staff Therapist | Evanston CAPS
While the importance placed on mental health has tremendously increased in recent years, it is often obscured in several cultures and communities. As an Indian-American woman raised between two cultures; both individualistic and collectivistic, I understand the strength required to seek the appropriate mental health care while acknowledging cultural stigma. My role as a Licensed Clinical Professional Counselor with a focus in Multicultural Counseling allows me to provide culturally humble care for students. A few of my clinical interests include interpersonal relationships, life transitions, bicultural/multicultural identity development, and perfectionism. My current work focuses on working with bicultural individuals in exploring their own cultural identity utilizing a strengths-based approach and fostering the resilience that comes with navigating two cultures. 
I am currently pursuing my Doctorate in Counselor Education and Supervision as I have a passion to teach, train, and promote the development and importance of culturally responsive practitioners.