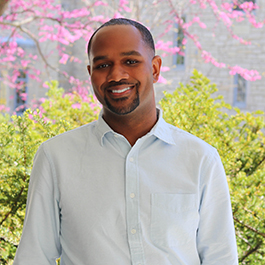 Staff Therapist
Donzell Lampkins is a Staff Therapist at Northwestern University's Counseling and Psychological Services. Donzell received his Master of Clinical Social Work from The University of Illinois at Urbana-Champaign. He completed clinical internship at Carle Cancer Institute. He also completed two post-MSW fellowship trainings in Contextual Behavior Therapy at the University of Chicago Crown Family School of Social Work and Working with Diverse Populations at Stanford University School of Medicine. He is currently pursuing post-graduate training in Positive Psychology from the University of Pennsylvania with anticipated completion in December 2023.

Donzell's clinical interests includes trauma, suicidal ideation, perfectionism, insecure attachment, low self-esteem, grief and bereavement, chronic disease self-management, academic and career counseling, identity development, and interpersonal conflict.

Donzell takes a holistic wellness, culturally sensitive, person-centered, collaborative, and eclectic approach to providing compassionate mental health care. Donzell's clinical interventions includes but not limited to Cognitive Behavior Therapy, Dialectical Behavior Therapy, Acceptance and Commitment Therapy, Positive Psychology, Academic and Career Counseling, Prolonged Exposure Therapy, Interpersonal Processing Therapy, Cognitive Processing Therapy, Mindfulness Practices, Brief Eclectic Psychotherapy, Narrative Therapy, and Expressive Arts Therapy.

Donzell is committed to helping students identify and address barriers prohibiting them from reaching their full potential while ensuring students are empowered to achieve holistic wellness during their collegiate experience.