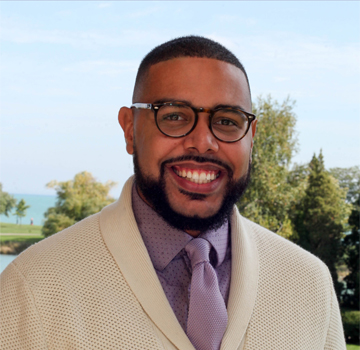 Keith currently serves as the Director of Fraternity and Sorority Life. He is tasked with setting and realizing the vision, purpose, and strategic priorities for a community that is central to the student experience at Northwestern. He leads a team that is responsible for the development and delivery of educational initiatives focused on leadership, social justice, and harm reduction. He serves as the primary advisor for the Executive Board of the National Pan-Hellenic Council and in our chapter coaching model, he advises chapters affiliated with all four governing councils. Keith often engages with inter/national headquarters, alumni, and the broader support system for chapters chartered at NU in service of their success.
Keith previously served at the University of Minnesota-Twin Cities as an Assistant Director for Fraternity and Sorority Life and has continued to teach online as an Adjunct Instructor within their Leadership Minor. His philosophical approach to this work is rooted in the importance of identity development, particularly the complexities of intersectionality. Beyond his campus based role Keith has served in a number of volunteer roles both in his fraternity - La Unidad Latina, Lambda Upsilon Lambda Fraternity, Inc.-, the Association of Fraternity/Sorority Advisors, and is an active member within several groups focused on the needs of Latinx, LGBT+, and other marginalized communities.

He is a graduate of the University of Nebraska - Lincoln's College of Education and Human Sciences with a Master of Arts in Educational Administration-Student Affairs. He obtained a Bachelor of Business Administration at the The City University of New York - Bernard M. Baruch College's Zicklin School of Business.