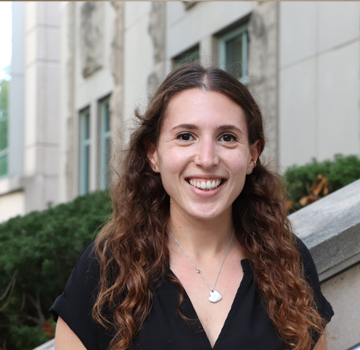 Abby serves as an Assistant Director of Fraternity & Sorority Life and advises the executive leadership of governing councils as well as maintains a coaching portofolio of chapters. She leads the office's educationl initiatives focused on leadership. Originally from Los Angeles, CA, Abby moved to Washington, DC to attend American University. She graduated in 2018 with a Bachelor of Arts in Sociology and a minor in public policy. While at American, she was heavily involved in her Panhellenic sorority, Alpha Epsilon Phi (AEPhi).
After graduation, Abby went on to work for AEPhi as a Traveling Educational Consultant. Following her time on the road, she moved to St. Louis to serve as a Social Justice Programming Coordinator for Hillel at Washington University. She moved to the Chicagoland area in 2021 to pursue a Master of Science in Higher Education Administration and Policy from Northwestern University. While at NU, she served as a Graduate Assistant in the Office of Fraternity & Sorority Life. Most recently, Abby worked for the Headquarters of Kappa Delta Sorority as a Training and Development Manager overseeing the officer, new member, senior, and emerging leader experiences.
Abby wholeheartedly believes in creating strategic partnerships, promoting equity, and creating a fraternity/sorority experience that can be the catalyst for the value, identity, and leadership development of students. Abby is excited to be back at Northwestern working with the Wildcat community. In her free time, she loves going for long walks along the lake, a good cup of coffee, and trying new restaurants.