---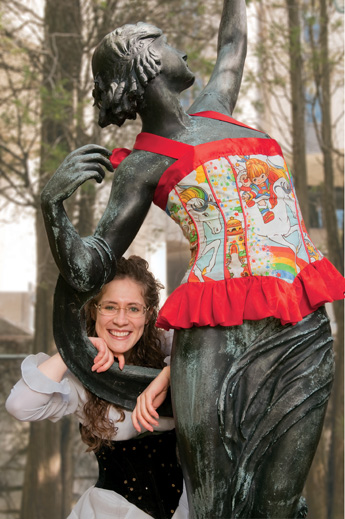 Hometown: Milwaukee
Majors: Gender studies and theater
Key Ingredient: Sells custom-made bras, corsets and lingerie, as well as hats and dresses, across the Midwest through WithaBite.com
What's next? Everybody says, "Oh, you're going to law school." I say, "No, bra school, as in breasts." It's in Hamilton, Ontario. There are six people a year. It's four months. You eat, sleep and breathe how to make bras. I'll be certified to do that when I get out of there. 
Why lingerie construction? I have always had a tough time finding bras that fit. When I got fitted for the first time, and I got a bra that fit, it made a huge difference in my life in terms of self-esteem. I think doing things that affect people's body image and self-confidence and working to make society more body positive is something I can do.
Favorite saying: "Consistency is the last refuge of the unimaginative," by Oscar Wilde. Everything can always be bettered or explored in a new way.
An important anecdote about you: I went to a really small private school. [For eighth-grade graduation] all the girls were able to wear whatever color dress they wanted. The popular clique decided all the girls would wear white. I wore a black dress to graduation.
Photo by Peter Barreras