---
A Warm Welcome to President Schapiro
Thank you for introducing us to Morty Schapiro, the 16th president, who offers so much to Northwestern ["Meet the Prez," spring 2010].
Welcome to the Northwestern family, President Schapiro. Those 20 purple sweaters will come in handy during Chicago winters.
Karyn M. Israel (GBSM83)
Skokie, Ill.
How times have changed. In 1958 my friend and I hopped a train from Chicago to Northwestern to meet with a man from admissions. We wanted to know what we needed to do to apply to Northwestern when we graduated from high school the following year. (Our inner-city school had no 'advisers' to guide us, and the only college admissions book on our library shelves was from Syracuse University.)
The first thing the man in admissions said to us was: "You know, we have a quota system here." We didn't know, didn't understand what that was. "It means," he said, "we never admit more than 2 percent Jews."
Welcome, Morton Schapiro. The Northwestern founders may be turning over in their mausoleums, but I can hear the faculty and students cheering for the appointment of this funny, bright, ecumenical and enthusiastic new president.
Sue Sussman
Aventura, Fla.
The article "Our Very Own Indiana Jones" [spring 2010] makes much of Professor William McGovern's conservatism. I do not remember that, and he certainly never let it intrude in his classroom work. As an adherent of the opposite persuasion, I would have objected.
As a political science major I took more than one of Professor McGovern's courses. He impressed me as both a serious scholar and a dedicated teacher. He entertained as well as instructed his students.
I number my hours with Professor McGovern among the high points of my years at Northwestern.
Walter Barthold (WCAS48)
Ridgewood, N.J.
My wartime adventures had earned me an introduction to Professor McGovern that led to an appointment as his exam and term-paper grader.
After more than half a century, my memories of McGovern are still vivid. Invited to his home, I was fascinated by its floor-to-ceiling bookcases - decorated with Japanese and American steel helmets, human skulls, an Amazon blow gun and a shrunken head.
"Professor McGovern will see you upstairs," said the maid. And there he was - in the bath, smoking a cigar, a pith helmet atop his head, term papers floating around him. "Fetch these out," he bellowed, "and get to work!"
Golf became his favorite outdoor recreation, and when his swing failed to produce a desired result, he'd sometimes shout, "Jesus, bite me."
He was a kind and generous mentor. And when I returned to teach at Northwestern, even though my field had become American politics, McGovern remained a steadfast friend.
Lawrence J.R. Herson (WCAS48, G49)
Dublin, Ohio
I was a poli sci major from 1947 to 1950. McGovern was my mentor, friend, golfing partner and frequently beer-guzzling companion as we sat on his screened porch and surveyed the state of humanity on planet Earth.
Since graduating in 1950, my travels have taken me to residency in Vienna, Paris and Rome and a long stay in Brussels as a management consultant. I used my experiences and the impact that my relationship with Professor McGovern provided to create the first academic courses in "cross-cultural study areas" at INSEAD in France in the 1970s. In my opinion, Professor McGovern was the creator of "political anthropology," which provided the basis for the much later interest in cross-cultural aspects in many academic areas.
Thanks again for the article and the photos, which literally touched my heart. I truly loved Professor McGovern, even though he almost killed me with one of his frequent hooks one day on the golf course.
John Alan James (WCAS50)
Stamford, Conn.
Taking attendance on the first day of his Asian studies class in 1956 or '57, Professor McGovern called "O'Connor." When I answered, he gave me quite a long look from his podium, then asked where I had gotten that name.
When I told him I was Irish, another long look, then, "You have an Irish name but a German face." I then said I was 100 percent Irish, as far as I knew. His response to me (and the class): "Somebody took in boarders."
Next time home I was told I was one-eighth or one-sixteenth German.
Phil O'Connor (WCAS58)
Upland, Calif.
The article's discussion of McGovern's "politically incorrect" political conservatism left me puzzled. Former Congressman Jim Kolbe is quoted as saying that he enjoyed the way McGovern would challenge people's 1960s thinking. This might give the impression that McGovern was a charmingly cranky opponent of long hair, communes and the peace movement.
But McGovern died in 1964, before what we think of as '60s thinking really came into being. During the last decade of his life the most conspicuous conservative stances would have been red-baiting à la Joe McCarthy or opposition to integration. However, we're told that McGovern staunchly supported the civil liberties of Northwestern faculty, which would not fit the profile of a McCarthyite.
Oscar Kenshur (WCAS64, G68)
Bloomington, Ind.
In the summer of 1963, shortly before I earned my bachelor's degree and departed for law school, I took Professor McGovern's course in South Asian politics, where I learned how the United States was following in the footsteps of the failed French colonial expeditions, both politically and militarily.
Although President Kennedy was my hero, I started writing letters to Washington, challenging the premises of the administration's policies. The answers I received (containing absurd sentences like "The idea of democracy is beginning to be understood in South Vietnam") reinforced my conviction that Professor McGovern was correct - the United States was on a disastrous path. Subsequent events proved him more right - and the government more wrong - than we ever imagined in 1963. His knowledge and insights dramatically altered and improved my worldview - exactly what a great professor does!
Sam Bleicher (WCAS63)
Arlington, Va.
"Ah, Tut! Tut!" My young children heard that jestful admonition when they stepped out of line. They laughed then as my grandsons do now when they hear "such folderol!" The originator was William Montgomery McGovern, the greatest man I ever met at Northwestern. I dare say I'm not the only one who feels that way.
When I took his classes in the early '60s McGovern was decades removed from the dashing adventurer with those piercing blue eyes who sneaked into forbidden Tibet in disguise and survived on snake meat in the Amazon jungles. Perhaps that was the cause for his lament that would rumble from his great body like a powerful low chord from a mighty pipe organ - "What a life! What a life!"
What a life it was indeed.
Years of rich food and drink in quiet Evanston ("where they vote dry, pull down the shades and drink wet!") took their toll. He had a huge potbelly and a bulbous red nose ("frostbite, not booze," he claimed). He wore the same suits for days on end: blue in winter; gray seersucker in summer. Food stains mottled his wrinkled white dress shirts.
The mind that commanded a dozen languages and global cultural minutiae remained agile. He still lectured at the Army and Navy war colleges. His strategic input and insights were in demand at the highest government levels.
Back home, "McGovernment" classes, as we called them, always were filled, every lecture seat taken. No one dared cut class because the final might come from that missed day. His lectures always began the same way. Without notes, he picked up the exact sentence where he ended the previous session. "As I was saying." The insults against a student he designated would fly off his Oxford-educated tongue like verbal shrapnel. I was the recipient because he saw me as a romantic who could withstand his verbal pounding, as in "No one is more depraved than that old chicken chaser Jeff Davis!"
We were political opposites. He was the undying conservative, I the unabashed liberal. But, at quarter's end, he always asked me for my lecture notes. And I read them back, in effect, when I recognized the questions as I took the final.
Yes, it was extremely worthwhile, and it brings me to the way each lecture ended. "I shall see you the next time we meet - if I survive the night!" In his words, my memory of McGovern remains as it did then, not just "mildly amusing," but much, much more than "mildly interesting."
Jeff Davis (J63)
Evanston
It was with great interest and enthusiasm that I read Christopher Danzig's story "Our Very Own Indiana Jones" about William Montgomery McGovern. McGovern was indeed Indiana Jones and much more to many of us when I took every course he offered from 1955 to 1958.
McGovern was a good friend of my father, Armond Dare Willis (WCAS38, G40), who was the University's director of student placement, and they served together as U.S. naval commanders in the intelligence service during World War II. My father became the first cultural affairs officer to the Soviet Union in 1946, while McGovern returned to teach at Northwestern.
Good luck for me. At registration for my last quarter in 1958, I was denied entrance to one of his courses because it had been filled by the time they came to the W's. I went to McGovern and complained that this was my last quarter before graduation and I'd been shut out. He said, "That will never do. ... I'll call the registrar, and we'll set up your own private course. Let's call it 'political philosophy.' Just come to my lectures, and we'll count you in."
His magnanimity, humor and accommodation were entirely memorable. He became a role model for my own teaching career.
Arthur Dare Willis (WCAS58)
Quaker Street, N.Y.
Bill McGovern was a great teacher, my most colorful professor and later became a family friend.
McGovern was the sponsor of our College Young Republican Club. He was a frequent guest on my weekly Meet the Press-type radio program called What's Best for America, which aired each Sunday morning on the Evanston radio station WNMP.
McGovern had a great sense of humor and a number of great sayings and observations, including "No civilized man eats dinner before seven o'clock each night!"
When there was a vacancy in Congress in Chicago's North Shore suburbs, a number of his students formed a group and encouraged McGovern to run for the seat as a Republican. He gave it some thought but decided instead to continue his teaching career at Northwestern.
Owen V. Frisby (C55, L57)
Rockville, Md.
"Our Very Own Indiana Jones" brought back memories of the most open-minded, knowledgeable, interesting, colorful, inspiring professor I had at Northwestern. We called him Dr. McGovern, and under his winter otter-fur cap, he had more foreign languages and knowledge of cultures in the Orient than brain cells could conceive.
He inspired me to research some Chinese culture and psychology to write a term paper about an unusual procedure used to expunge certain illnesses in a tribal area. However, my paper was given a failing grade by his graduate assistant in McGovern's absence. McGovern had been called to testify before Congress about his experience involving combat in the Pacific. When he returned and reviewed my paper, he blacked out the failing grade with a big X and sent it back to me with an A++. Later, the term paper helped me get accepted into law school.
Ward P. Fisher (WCAS49)
Oak Park, Ill.
How fortunate for Northwestern students to have had such a well traveled and adventurous (in so many ways) person as William Montgomery McGovern as their teacher. I only wish that when I studied at Northwestern for my master's in mathematics in 1957-58 I had been aware of him. I would have loved to have been in his class and might have even changed my subject of study!
I look forward to your next issues.
Joan Gallicchio Caviness (WCAS58)
Tiburon, Calif.
I was one of the students in William McGovern's political science class. There were many students in the lecture hall as everyone wanted to take his class. I remember his calling role the first day. After each name was called, the student would respond, and McGovern, with his piercing gaze, would look at the face of the responder. None of us knew how he did it, but at the next class he would look at a particular student and call out his or her name to answer a question. We never could figure out how he could remember most of our names that quickly.
It was a treat to see the article and to watch the 1924 film Mysterious Tibet showing William McGovern on one of his many journeys.
Robert Kaul (EB59)
Riverwoods, Ill.
In the early '60s Professor McGovern was lionized by not only political science students, but also by most graduate students in English who hoped to find space within hearing range of that dazzling pied piper.
In his animated brusque way, Professor McGovern reminded one of Samuel Johnson, an earlier "ungainly" genius who didn't suffer fools (such as Whigs) or literary frauds (such as James MacPherson) or patronizing gentry (such as Lord Chesterfield) gladly. McGovern's engagement of our naiveté in retort to his bons mots made one feel that he shared Samuel Johnson's own view of friendship itself:Having outlived numerous friends among his own contemporaries, Johnson was diligent into his old age to cultivate the friendship of admiring young friends.
"If a man does not make new acquaintance as he advances through life," Johnson explained, "he will soon find himself left alone. A man, sir, should keep his friendship in constant repair."
In our current self-consciously respectable era, Professor McGovern's dazzling "credentials" (along with his candor) would surely "disqualify him" for ANY affiliation with Northwestern.
Bernard van't Hul (G61, 71)
University of Michigan, Professor Emeritus
Ann Arbor, Mich.
The McGovern profile prompted a remarkable number of contacts between Professor McGovern's students and University Archives, which holds an important collection of McGovern manuscripts.
One such contact put us in touch with Professor McGovern's son, William, a faculty member at the University of California, Los Angeles, School of Law. I wrote to Mr. McGovern, inquiring after surviving manuscripts, in the hope that some additional documents relating to his father's storied career might still be extant.
Well, yes, it turned out, there were some materials in his possession, and Mr. McGovern graciously offered to place them with University Archives.
On April 13 three large cartons arrived at Archives, packed and sent by Mr. McGovern. We tore into them and found a considerable volume of biographical materials, interview and lecture transcripts, newspaper clippings and McGovern-related correspondence: a welcome and exciting addition to our collection.
Thanks to the Northwestern magazine story, the resurgence of interest in Professor McGovern and the generosity of his son - along with some good luck - future researchers will enjoy access to a greatly enhanced volume of McGovern material and no doubt will have a fuller appreciation of his life and contributions to the University and to scholarship.
Kevin Leonard (WCAS77, G82)
University Archivist
Northwestern University Library
In the Mood
What a fantastic interview with the lovely and talented Norda Mullen ["In the Mood," spring 2010]. Thank you so much for sharing some of the bright light that is Norda! We so seldom get to hear about things she does outside the Moody Blues.
Well done!
Gloria Shiraef
Manitowoc, Wis.
Bring Back the Fire on Ice
Excellent story on Rocky Wirtz, owner of the Chicago Blackhawks ["Fire on Ice," spring 2010]. I had no idea that Rocky went to Northwestern.
How about getting Northwestern to consider upgrading the University's hockey club team to a competitive program? There are very few hockey teams in college sports, and most of the Ivy League schools have competitive teams.
JoBe Cerny (GC72)
Highland Park, Ill.

I was dismayed to see the term "alright" used in the story about Rocky Wirtz in the most recent issue of the alumni magazine. That is not a word, nor is it an acceptable version of the term "all right."
Jennifer Bulat (J91)
La Grange Park, Ill.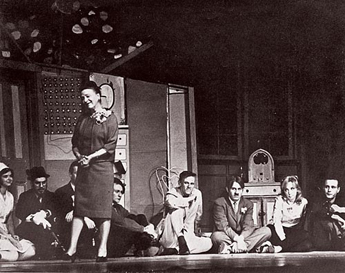 News on Campus
In "New Theater Honors Legendary Acting Professor" [News on Campus, spring 2010] it would have been interesting to your readers if you had identified the actors sitting across the front of the Cahn Auditorium stage in the photo from that 1963 production of Rhinoceros. Though not pictured, Frank Galati (C65, GC67, 71) was the "star" player in that production.
We had presented Rhinoceros the previous summer at Miss Alvina Krause's theater in Eagles Mere, Pa., and many of the members of that cast can be seen in the photograph. I am looking solemnly off to stage left sitting right behind Krause's left leg. (Those legs were a wonder, still shapely in her 70s, and she knew it, too.) At the viewer's far right is Mary Douglas (WCAS67), granddaughter of then Supreme Court Justice William O. Douglas; sitting next to her is, I think, Mark Lamos (C69), one of America's most innovative theater and opera directors, who recently retired after a distinguished tenure as artistic director of Hartford Stage Company. Next to him is Jim Shannon (C65, GC67), whose face and voice nearly every American has heard over the last few years in a widely seen AARP commercial.
I'm pretty sure that the man sitting behind Miss Krause (his crossed hands can be seen on either side of Krause's right knee) is Jim Mennen (C66), who has been an active producer in New York for many years. I can't identify the man next to him, but the woman in the nurse's uniform is Susan Gustafson (C65), also a member of the theater department class of 1965 and surely one of the most intriguing actors I ever had the good fortune to know; we worked together at both Eagles Mere and at Northwestern, notably in a production of Max Frisch's The Firebugs (Herr Biedermann und die Brandstifter), a production directed by then-professor John Van Meter, a longtime protégé and colleague of Miss Krause.
Your short article barely touches (how could it be otherwise) on the life and teachings of Miss Krause. She left so indelible a mark on those of us who studied with her in those last years of her teaching career that rarely a day passes when we do not experience some life lesson for which she planted the seeds of understanding in our adolescent-muddled minds. That's beyond the unending lessons in purely technical matters of acting and directing - and reading - that we still use every day in our work.
That there is a space that celebrates actors and acting named for her at Northwestern is admirable, although some of us felt that "at last" was an appropriate response. Inspiring is too weak a word to describe what she was able to do to you and for you, even if sometimes you might have been inspired to scream and cry because you could not satisfy her standards.
She was - and she remains for many of us - unique and forever irreplaceable.
Marcus L. Overton (C65)
San Diego
"Our Man In Space"  [News on Campus, spring 2010] lists three Northwestern-connected astronauts but leaves out one very important name: Karl G. Henize (1926-93), professor of astronomy, who logged 188 hours in space as a mission specialist on the Spacelab-2 mission (STS-51) aboard the Space Shuttle Challenger in 1985.
Henize became associate professor of astronomy at Northwestern in 1959 and a full professor in 1964. NASA selected him as a scientist-astronaut in 1967, after which he remained as a professor but spent most of his time in Houston, only occasionally returning to Evanston.
So, now there are four.
Robert Sheaffer (WCAS71, GSESP72)
Lakeside, Calif.
"El" of a Way to Spell "L"
I was pleased to see the article about Greg Borzo ["Taking Chicago by Train," Alumni News, spring 2010] and his book on the "L." I was not pleased to see that the story continuously referred to the Chicago rail transit system as the "el."
As the title of Borzo's book shows, it should be "L." When the title of the book and all references in the book's text are to the "L", why would the magazine not use the same name? While New Yorkers and Bostonians have their els, there is no E in "L" in Chicago.
The abbreviation "L" goes back to the early 1890s when the original line was nicknamed the Alley "L" because of its location over the alley east of State Street. The abbreviation also differentiated the Chicago "L" from those els in other cities.
How about an "L" ride?
Walter Keevil (McC68)
Chief Rail Equipment Engineer
Chicago Transit Authority
Chicago
Beyond the Culture Bus
Culture Bus ["On the Culture Bus," "Untangling Alzheimer's," fall 2009] is just one of the many innovative programs and services for older adults offered by CJE SeniorLife (formerly Council for Jewish Elderly) in Metropolitan Chicago. CJE's comprehensive network of care includes housing, health care, community services, education and applied research.
CJE has indeed been involved with the Culture Bus since that program's inception but as far more than as just a provider of transportation. CJE professionals in the field of aging, including CJE's director of adult day services, Judy Holstein, worked closely with Northwestern's Cognitive Neurology and Alzheimer's Disease Center to create and then expand this award-winning program. Along with CJE's adult day programming in Deerfield, Evanston and downtown Chicago, Culture Bus offers stimulating activities and social engagement for members and a much-needed respite for caregivers.
Laura Wolfson Prohov (KSM83)
Vice President for Community Services
CJE SeniorLife
Chicago