---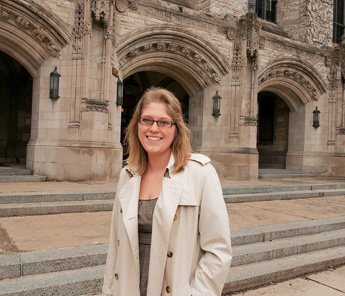 Hometown: Grew up in Stratford-upon-Avon, England, and her family now lives in Mallorca, Spain
Majors: Communication studies and international studies, with a business institutions minor
Key Ingredient: CEO of Northwestern Student Holdings, the parent company that oversees a collection of student-run businesses
A defining anecdote about yourself: During high school my family moved to Spain, but I attended boarding school in the UK. My favorite part about coming home was my mom's homemade onion soup. It did not matter where in the world I was, as long as there was my mom's soup, I was home.
Turning points at Northwestern: During sophomore year I discovered my passion for entrepreneurship. Working with Northwestern Student Holdings, I had the opportunity to start my own business, Wildcat Express Delivery [which delivers takeout orders from Evanston eateries]. The challenge of creating a startup was the defining aspect of my time at Northwestern.
Favorite Northwestern traditions: I always get excited for Homecoming because, growing up, I thought the "big game" was a quintessential American experience. And Primal Scream is awesome. You can hear these people screaming out in academic-induced agony on the Sunday night before finals week. And then you go and have cookies afterward. That's a pretty solid experience.
Photo by Peter Barreras