---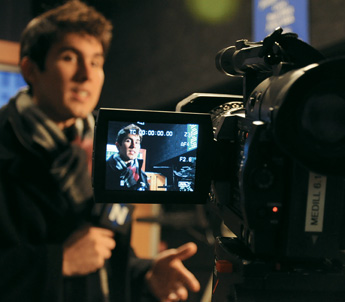 Hometown: Houston
Major: Broadcast journalism, with a minor in political science
Key Ingredient: One of the first two Latino news directors for Northwestern News Network
Something important about you: I'm a shy reporter. In broadcast journalism we're kind of bred to be overly confident, but that's not me. That doesn't make me a bad reporter. I just have a different way of getting at things.
Closest mentor: Larry Stuelpnagel. I would go in to see Larry every Friday — we called it "Fridays with Larry." He would watch your tapes and take the time to criticize every little thing. I think that really helped.
Dream job: I've resigned myself to know I'm not going to be president of the United States, so the next best thing would be to cover the man or the woman.
Regrets? I never did Dance Marathon, and I really regret that. It's not going to change my life or anything, but everyone wants to dance for 30 hours.
Photo by Marcelino Benito