---
by Elizabeth Canning Blackwell

Whenever he visits New York City, theater professor Dominic Missimi has a ritual. He wanders the theater district around Times Square, scanning the lit-up marquees and reading through the cast lists posted by the ticket windows. More often than not, he finds what he's looking for: names of former students who have gone on to careers as singers, dancers and actors.

In a sense, each name is a validation of his life's work, proof that it is possible to build a career centered on theater — as Missimi himself has done. As he prepares for his retirement after 30 years with Northwestern's theater department, Missimi can look back on an impressive legacy: He created the department's well-regarded Music Theatre Certificate program; directed dozens of popular shows; and created opportunities for students to work with and learn from some of the top artists in the business. (A star-studded gala benefit, "Starry Starry Night," honored Missimi May 24 in Cahn Auditorium. See video below.)

Throughout his career he has gone beyond the classroom to help students prepare for life as working actors. "If we're going to train them, we have to let them know what's waiting out there," he says. "It's not all Cinderella stories."

Still, Missimi's own story has a few fairy-tale elements. He grew up outside Columbus in New Lexington, Ohio, the son of Italian immigrants who couldn't read or write English. Neither of his parents attended grade school, let alone college. But his small town did have one place where Missimi first experienced theatrical magic: the local Catholic high school, St. Aloysius Academy. 

"It was like a castle on a hill," he remembers. "When I was in fifth grade, we went there to see a performance of Bernadette of Lourdes. They were using a scrim, and at first it looked like there was no one onstage. Then the lights came on, and I literally thought I was witnessing a miracle: How did the Blessed Mother appear?"

When Missimi started high school at St. Aloysius, the academy's focus on the arts continued to inspire him. He remembers his astonishment when he first saw a room with 14 grand pianos. Though music and theater were his main interests, he was also on the football team: Since only one-third of the students were boys, they were required to play all varsity sports.

In 1962 Missimi went to the University of Detroit on a journalism scholarship. Before long he had switched his major to theater — without telling his parents. "They couldn't read my report card, so they would never know," he says. 

Although he performed in college productions, he eventually gravitated toward directing. "Once I was onstage I was fine," he remembers, "but before a show, I used to pray I'd get sick so I'd have a good excuse not to go to the theater. I realized I didn't want to get nauseous every time I did a play.

"I feel more at home standing in the back of the theater, watching over this family I've created, worrying about a lot of people rather than just myself."

Missimi received his undergraduate degree from the University of Detroit and his master's from Wayne State University. He returned to the University of Detroit to teach and eventually founded the school's bachelor of fine arts program in dance. It's also where he met his wife, Nancy, who worked in the school's costume shop; for their first big date, they went to a costume ball dressed as Napoleon and Josephine. They married in 1969 and eventually adopted two daughters, Emmy and Angela.

Like theater lovers before and since, the Missimis felt the pull toward New York. During the 1970s Missimi worked on his doctorate in theater at New York University while teaching full-time at Long Island University. "It was a great life," he says.

But he was ready for a change when he got an intriguing offer to start a new Equity theater company at the Star Plaza Theatre in Merrillville, Ind., about 30 miles from Chicago. In 1980 he uprooted his family and bought a house there, full of ambitious plans. Within three months, he and Nancy were fired, along with the entire company.

It was a tough blow, and one that left Missimi scrambling to figure out what came next. When his wife got a job making costumes for the Goodman Theatre in Chicago, Missimi started looking for teaching jobs in the area. Northwestern happened to have a last-minute opening on the theater faculty, and Missimi was soon hired. "I was in the right place at exactly the right time," he says.

While he has taught acting, directing and theater history at Northwestern, he'll be remembered best as a champion of music theater. He collaborated with professors in the Bienen School of Music to design the Music Theatre Certificate program, which trains students in both voice and theatrical techniques. "He almost single-handedly built the program into one of the best-regarded in the country," says associate professor David Bell.

He also was a founder of the American Music Theatre Project, which develops new musicals and brings well-known directors, choreographers and stage designers to Northwestern for residencies. "These connections automatically give the students a big step up," says Missimi. "When they get to New York, they already have people rooting for them."
Missimi also set up showcases in New York and Los Angeles so well-known agents could see young Northwestern performers in action. Missimi's support for his students as well as his creative talent and collaborative skills have made him a force in the theater department, says chair Rives Collins. "No one has his kind of energy," he says. "He's a whirlwind of big ideas."  
"Dominic has a genuine care for the people he mentors," says Brian d'Arcy James (C90), who has gone on to a successful career in Broadway musicals such as Titanic, Carousel, Sweet Smell of Success and Shrek: The Musical. When James was a sophomore, Missimi cast him in a Northwestern production of Hair that was eventually restaged professionally to celebrate the show's 20th anniversary. "I was still figuring out what it meant to be a professional actor, and that experience was really crucial to my education," says James.
Heather Headley (C97), who won a Tony Award in 2000 for the title role in Aida (see "Taking Center Stage," summer 2000) and recently received a Grammy for her gospel album Audience of One, remembers meeting Dominic at her first Northwestern audition. "I had heard he was the one we had to impress, and I think I've carried that with me ever since," she says. "If I didn't give a great performance for his class, he let me know, and he'd push me to fix it."
Missimi encouraged her to try out for shows off campus, and when Headley was offered an understudy role for the Broadway production of Ragtime at the end of her junior year, he was one of the first people she called. "He wasn't too excited that I wasn't going to be able to do the musical at school that fall, but he told me to go. He said, 'This is what we're training you for.' I'm glad I took the advice!"   
Missimi has hired many former students for shows he's directed in the Chicago area, most notably at the Marriott Theatre in Lincolnshire, where his wife, Nancy, is the resident costume designer. "Dominic has a wonderful eye for music theater storytelling," says Bell. "His productions have a beautiful, operatic romanticism and great emotional complexity." Nominated for numerous Joseph Jefferson Awards for directing Marriott productions, Missimi has won five, including Jeff Awards for Funny Girl, Les Míserables and1776.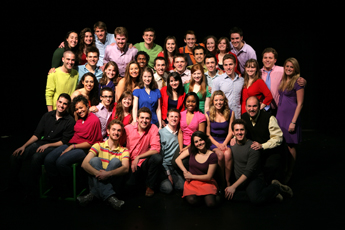 In addition to his professional work, Missimi (above, lower right with the 2008 Waa-Mu cast) has staged more than 80 on-campus productions at Northwestern, including the annual Waa-Mu Show, which he has directed since 1994. "I wanted it to not just be a collegiate send-up or a chintzy Las Vegas show," he says. "I wanted Waa-Mu to be lighthearted, but with a more serious intention. I encouraged students to think out of the box." 
He's also thinking out of the box when it comes to his retirement. Now that his daughters are in college and high school, he has the freedom to travel. Though he hopes to direct occasional shows at Northwestern, he's also thought about running a bed-and-breakfast or working in travel.
A recent battle with cancer has given him a special appreciation for the possibilities ahead. After his diagnosis in 2006, he endured two years of surgeries, chemotherapy and radiation. "I felt I had a family here to help buoy me through," he says. "I may have been directing Waa-Mu with a chemo bag, but being with the actors revived me. Little by little my spirit was renewed." He's now cancer-free.
It's only fitting that a great showman exit the stage with a bang. For his last mainstage season production at the theater department, Missimi decided to stage Leonard Bernstein's Mass, a daunting undertaking that requires a large ensemble of musicians, singers and dancers. "I wanted something momentous," says Missimi. "My brother is a priest, and I dedicated the show to him. It was a wonderful way to end my directing career here, coming full circle back to my family."
For Rives Collins, the most memorable moment of opening night came when songwriter Stephen Schwartz, who collaborated with Bernstein (H57) as the work's lyricist, announced at the cast party afterward that it was the best version of Mass he'd ever seen. "He stood up and said, 'I hope you know what a treasure you have here,' and he pointed to Dominic. The students rose to their feet in an extended standing ovation."
To his Northwestern theater family, Missimi will never really retire. "Dominic cares passionately about what he does, and he supports and believes in his students," says Bell. "He's a mentor for life."
Elizabeth Canning Blackwell (C90) is a freelance writer in Skokie, Ill.
Photos by Andrew Campbell
For more on Missimi, read the Northwestern NewsCenter Q&A "Curtain Call."

Tell us what you think. If you have any questions or comments, please e-mail the editors at letters@northwestern.edu.