---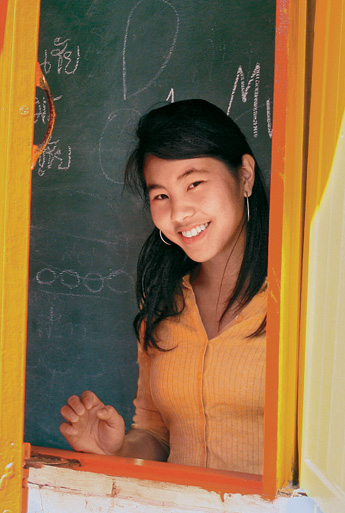 Hometown: Singapore
Major: Social policy, with minors in international studies and communication sciences and disorders
Key Ingredient: Activist who co-founded the Amber Initiative, a Singapore-based, youth-led international organization dedicated to fighting human trafficking through education; will graduate a year early and travel the world on a Circumnavigators Club grant to study education as a tool for social justice; won the first Patrick G. and Shirley W. Ryan Prize for Community Service 
What's next? I will probably be leading a youth hostel called Blessing Home in the northern part of Thailand. I've been working there for the past nine years. The hostel is for the Lahu, a hill tribe people who have been marginalized for centuries. They live in the mountains, where the schools only go up to elementary level. So my parents' organization, Eagles Communication, provided this hostel in Chiang Rai where the students can live during the school year so they can go to school in the city. I will run the curriculum and manage the home.
An important anecdote about you: My best friend at the youth hostel in Chiang Rai was sold by her parents. She had to leave school under her parents orders and dropped out from the hostel as well. She was 16 years old, and I haven't heard from her since. That just made the issue of trafficking and the need for reform and education so personal. It was her strength and courage that reminds me how blessed I am to have all these opportunities and to use my life for other people.
Top accomplishment at Northwestern: The International Student Association Northwestern World Cup. It's a two-day soccer tournament. It's grown so much this year — we have people across the nation wanting to replicate the model we've created. The world is at Northwestern, and oftentimes we forget that richness of culture. We can celebrate that through soccer.
Dream job: I think I am already doing my dream job. The Amber Initiative, that's exactly what I want to do for the rest of my life.