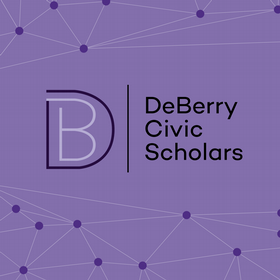 Program Overview 
The DeBerry Civic Scholars at Northwestern is a leadership development and community engagement program designed for a cohort of selected first, second, or third year students at Northwestern. The program provides students with the opportunity to engage in meaningful public service rooted in the local community and the reflection space to process those experiences. The goal is to build meaningful relationships and practice valuable leadership skills while wrestling with issues of power/privilege and racial inequities in our local context. DeBerry Civic Scholars Program is named in honor of a family of community activists in Rogers Park (Ebony and Caleb pictured below).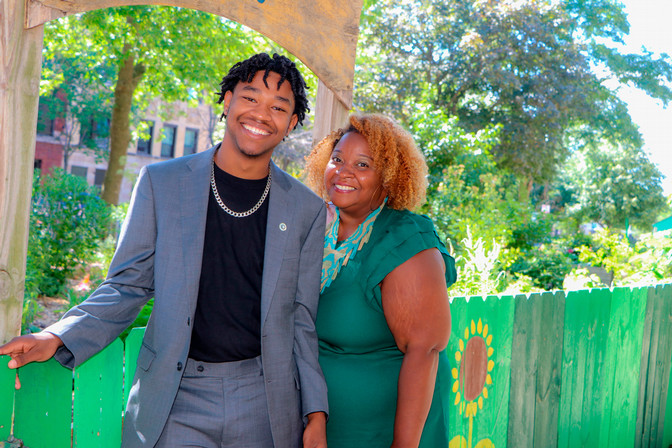 Program Format
The DeBerry Civic Scholars program consists of group meetings and directed civic engagement work in the North of Howard Chicago neighborhood in Rogers Park.  The cohort runs from the middle of the fall quarter until the end of the academic year. After selection in the fall quarter, the DeBerry Civic Scholars cohort meets weekly as a group to prepare for community engaged learning. During the winter and spring quarters, DeBerry Civic Scholars spend weekly time in direct service in the community at Gale Community Academy or one of the nearby non-profits in addition to continued cohort meetings on campus. 
Program Application
DeBerry Scholars are: 
Willing to be an active learners and committed cohort members 

 

Energized to explore the root causes of social inequities 

 

Committed to advancing racial justice and equity

 

Prepared to give weekly time for community-engaged learning and service

 
Application Process & Timeline
Applications for Cohort 2023-24 are open. Apply here by Sunday, October 8th at 11:59 pm.
Second year students are especially encouraged to apply.
Accepted DeBerry Cohort members will begin weekly meetings on Wednesday, October 18th, 2023.
Ms. Ebony DeBerry:
Ebony DeBerry (she/her) is the Manager of Educational Initiatives, running the Women of Color Table and overseeing the Parent Mentor program at ONE Northside, an organization that builds collective power to eliminate injustice through bold and innovative community organizing. She also recruits for Grow Your Own Teachers, an organization that supports racially diverse individuals who have a desire to become teachers in their own communities. She has lived in Rogers Park her whole life, attending Chicago Public Schools as a student at Gale Elementary and Sullivan High School, and later deciding to teach in the district. She has experience managing youth programming at Howard Area Community Center, being a restorative healing conversations practitioner, and as a community organizer. As an organizer, she has worked alongside the community on several successful campaigns, banning the box for felony convictions in the state of Illinois and keeping Gale Elementary open during a round of Chicago school closures as some of her proudest achievements. She is devoted to the development and leadership capacity of women of color in her community and has worked closely with them in order to endorse and elect younger and more diverse representatives. She graduated from Central State University with a degree in education, then received her master's of science in communication from Northwestern University. In her spare time, Ebony enjoys spending time with friends and family, thrifting, traveling, and reading. 
Mr. Caleb

DeBerry:
Caleb DeBerry (he/him) was born and raised in the Rogers Park area. Educated by the Chicago Public Schools system through attending Gale Elementary, Disney Magnet, and Northside Prep, he is currently a student at Howard University, majoring in political science and minoring in sociology. His civic engagement started when he attended organizing meetings alongside his mother. In that vein, he has worked to prioritize the voice of young people in our society, having served as the executive director of Vote16 Illinois, which works to lower the voting age in local elections; the political director for the High School Democrats of America Progressives Association, where he worked to help progressive candidates win their primaries; and as summer assistant for Alderwoman Maria Hadden of Chicago's 49th ward and for State Senator Mike Simmons of the 7th district. He currently serves as vice president of the board of directors for A Just Harvest, an organization dedicated to feeding the hungry and addressing the root causes of poverty. In his free time, Caleb enjoys going to museums and researching a wide variety of topics.
Previous Cohort Member Profiles
Questions? val.buchanan@northwestern.edu