MLK Day - Eva Jefferson Day
MLK Day - Eva Jefferson Day
Every year on MLK Day, Northwestern welcomes children and youth from Family Focus in Evanston for a program of learning about the civil rights movement, exploring themes of justice and allyship, and building relationships. The day, co-sponsored by Leadership Development and Community Engagement and ASG, is named to honor the first Black president of the NU student body, Eva Jefferson Paterson.
 If you are interested in supporting this day, contact val.buchanan@northwestern.edu.
Learn more about the Eva Jefferson Paterson Fellows Program hosted by the Deportation Research Clinic through the Buffet Institute for Global Affairs here.
Eva Jefferson Paterson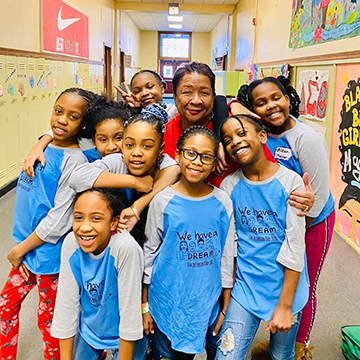 Eva Paterson is a civil rights champion, community leader, and litigator who co-founded and led the Equal Justice Society in the San Francisco Bay area for over 20 years. Eva also served as the Executive Director of the Lawyers' Committee for Civil Rights for 13 years.  Eva Paterson grew up in a military family in France, England, and southern Illinois. 

In high school, she traveled the state giving Martin Luther King's "I Have a Dream" speech." She completed her undergraduate studies at Northwestern University, where she was the school's first African American student government president. As a 20-year-old student leader at a time of turmoil, Paterson was catapulted into the national spotlight when she debated then Vice President Spiro Agnew on live television. 

Eva has received countless awards, including the ABA John Minor Wisdom Public Service and Professionalism Award, Fay Stender Award from the California Women Lawyers, Woman of the Year from the Black Leadership Forum, the Earl Warren Civil Liberties Award from the ACLU of Northern California, and the Alumni Award of Merit from Northwestern University.