Welcome to CIC
We invite you to join CIC and its various university partners in making NU a place where students are safe and feel a sense of belonging to the university. If you would like to get involved, email inclusion@northwestern.edu.
Let's collectively make a difference at NU!
News, Events & Partners on Campus
Events
There are no upcoming events at this time.
Departments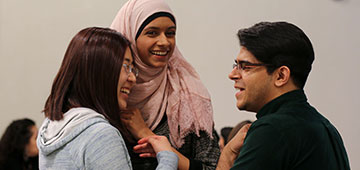 Multicultural Student Affairs (MSA)
MSA enriches the cultural experience of Northwestern through leadership and education programming.
Student Enrichment Services (SES)
SES works with low-income and/or first-generation students to enhance their academic success, personal development, and professional growth.
Social Justice Education (SJE)
SJE creates co-curricular educational opportunities in partnership with our student community that foster self-exploration, facilitate conversations across difference and support actions that create social change on campus.