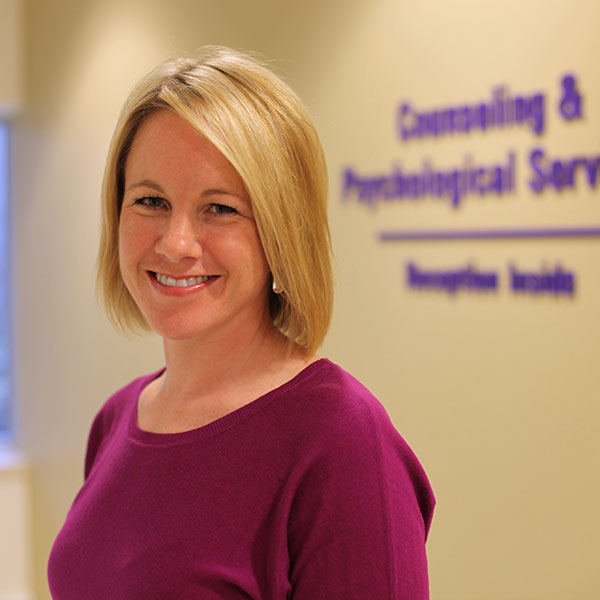 I first joined the CAPS team as a Doctoral Intern in August 2004 and have stayed ever since! After subsequently working in a part-time role with CAPS for a few years, I joined the staff full-time in September 2010 as the Assistant Director for Outreach and Education. I was drawn to that position because of my passion for meeting students where they are, helping them learn and grow, and connecting with our community.
Trained as a sport psychologist, I completed a B.A. in psychology at the University of Notre Dame, a M.A. in kinesiology at the University of Minnesota, and a Ph.D. in counseling psychology at the University of North Texas. As a competitive soccer player, gymnast, and track and field athlete growing up, I dealt with multiple injuries which eventually ended my soccer career once I got to college. My identity as an athlete and experiences navigating the emotional challenges of injuries led me to a career that I love! I am fortunate to have had the opportunity to develop a comprehensive set of mental health and mental performance services for Northwestern student-athletes and am grateful to be part of a team that supports the WHOLE student-athlete. I approach my work from a systems perspective, focusing my attention and efforts not only on each individual's personal experience and growth, but on ways in which their lived experiences are impacted by their relationships, community, and society. As such, I value working collaboratively with other health care providers, coaches, administrators, and staff to provide an optimal environment where student-athletes can thrive.
 I identify as a cis-gender heterosexual woman of European-American ancestry. A native of Chicagoland, I returned to the area after living in a several places throughout the Midwest, East Coast, and Southwest U.S. I LOVE the water and am most content when hanging out on a Minnesota lake or the beaches of Lake Michigan. When I'm not working (or at the beach), you'll usually find me watching sports (especially the 'Cats!), working out, or spending time with my husband and our three children.