Ready, Set, Reduce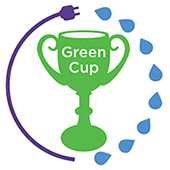 Green Cup is here! From October 19 through November 15, Northwestern students compete to claim the Green Cup for their on-campus residences by reducing energy and water use and by participating in events related to sustainability. (Image: Green Cup logo?) Green Cup has four competition categories: residences without food service, residences with food service, fraternities, and sororities.
The primary goal of Green Cup is to reduce electricity and water use as compared with established baselines for each residence. Students can help their residences rise in the rankings by taking simple steps such turning off lights when leaving a room, unplugging appliances that use energy while in "standby" mode, and taking shorter showers.
Along with conservations efforts, students can earn points for their residences by attending Green Cup events, which offer opportunities to learn more about sustainability efforts on campus and beyond. Green Cup is organized by Students for Ecological and Environmental Development (SEED) with support from Engineers for a Sustainable World (ESW), the ASG Sustainability Committee, Eco-Reps, the Office of Sustainability, and Facilities Management. Students, faculty, and staff can connect with these student groups and university offices to get involved in efforts to make Northwestern more sustainable during Green Cup and all year round.
To keep up with the competition during Green Cup, like the NU Green Cup Facebook page, and check out the full list of events on the Green Cup webpage.