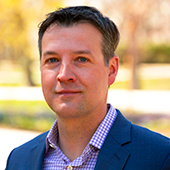 Greg Kozak
Director, Sustainability

Greg joined sustainNU in September 2019. As director, Greg is responsible for the development, coordination, and implementation of Northwestern's sustainability programs. A core component of this work involves collaborating with administrators, faculty, staff and students to integrate sustainability into both the operational and academic functions of the University.  His expertise is in the areas of global and U.S. climate change policy and regulations, carbon markets, greenhouse gas management, and sustainability.

Greg came to Northwestern from United Airlines where he led cross-divisional sustainability programs and provided leadership to United's environmental strategy, reputation, and related advocacy and communication efforts. Prior to joining United, he worked as an environmental consultant assisting clients in various industries on environmental issues including sustainable business practices and sustainability strategy development.

Originally from South Bend, Indiana, he now lives in Chicago where he enjoys live music and traveling with his wife and two children. Greg earned a B.S. in Environmental Engineering from the University of Notre Dame and a master's degree from the University of Michigan's School for Environment and Sustainability.