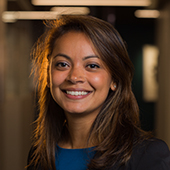 Kathia Benitez
Sustainability Director
Kathia Benitez joined sustainNU in June 2016 as the Sustainability Director. Kathia is responsible for providing leadership and management to ensure integration of sustainable practices throughout the University's campuses. She will coordinate and administer sustainability and energy efficiency programs in collaboration with students, faculty and staff.
Prior to working for Northwestern, Kathia was the senior manager supporting the U.S. Department of Energy's Better Buildings Initiative. In her role, she provided direct oversight and strategic guidance for the Better Buildings Alliance and Better Building Challenge initiatives. She also served as a sector matter expert for healthcare organizations.
Previously, Kathia served as the Corporate Energy Program Manager for New York Presbyterian Hospital where she managed an annual $60 million utility budget across a 12-million square foot building portfolio. Under her leadership New York Presbyterian Hospital won several ENERGY STAR Awards for Sustained Excellence in Energy Management and Climate Communications. The hospital earned additional recognition from the American Society for Healthcare Engineering's Energy to Care program, the Department of Energy Better Buildings Challenge, and Practice Greenhealth.
For Kathia sustainability means embodying a benevolent leadership presence that serves as a catalyst to bring about action and transformation.