Conversations with sustainNU Podcast
Conversations with sustainNU Podcast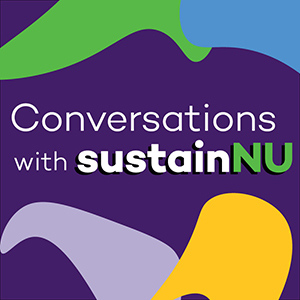 Welcome to Conversations with sustainNU, a new podcast series with host Greg Kozak, Director of Sustainability at Northwestern University.
Listen to the podcast online, on Spotify, or on Google Podcasts. Coming to more platforms soon.
If you're interested in being a guest, send us an email: sustainNU@northwestern.edu
Wrapping up the 3-part environmental justice series, Greg sits down with Dr. Patty Loew, Director of the Center for Native American and Indigenous Research at Northwestern University and a member of the Bad River Band of Lake Superior Ojibwe. This episode touches on past and current environmental injustices native nations face and how native youth, traditional cultures and ecological knowledge, and a sense of generational land stewardship inspire hope for a better future.
Greg sits down with Erik Birkerts, the Chief Executive Officer of Clean Energy Trust, a Chicago-based nonprofit that supports early-stage startups in the Mid-Continent region of the United States working on solutions for clean energy, decarbonization, and environmental sustainability. He currently serves on the Advisory Board for Northwestern University's NUvention: Energy Program.
In the second episode of the environmental justice series, we chat with Abigail Foerstner, the Director of the Health, Environment, and Science specialization in Medill's Graduate program. This episode dives into her experience reporting on local and global communities combating environmental injustices—from systemic disenfranchisement of communities of color to coastal communities dealing with rising sea levels due to climate change.
In this first episode, Northwestern's Director of Sustainability sits down with Nancy Loeb, Clinical Associate Professor of Law and the Director of the Environmental Advocacy Center at Northwestern University's Pritzker School of Law. With emerging evidence that many disadvantaged communities in the United States are being disproportionately impacted by COVID-19, this podcast will focus on the indirect, but connected theme of the unequal impact of environmental degradation and climate change on low-income, minority and marginalized communities. This is installment one of three focused on the topic of environmental racism and the intersection of sustainability, equity, and environmental quality.