Bike Commuter Challenge 2017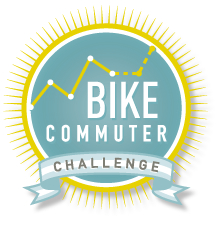 The Bike Commuter Challenge is an annual biking celebration organized by the Active Transportation Alliance. The event encourages new and experienced riders to get out and bike while creating friendly workplace competition among Chicagoland companies and organizations. This year, the competition kicks off on Friday, June 16 and runs through Friday, June 30.
Help Northwestern compete with other Chicago-area educational institutions for the title of Bike Commuter Challenge winner!  To participate, sign up as a part of the Northwestern University team on the event website. Then ride your bike to campus, and log your rides online or through the Bike Commuter Challenge app. If you aren't able to bike all the way to campus, you can still participate by biking part of the way. For example, biking to or from the train or bus also counts as a ride. 
When biking, be sure to follow the rules of the road and observe bike safety practices. Always use lights at night, wear a properly fitting helmet, and make sure your bike is in good working order. The Active Transportation Alliance offers a variety of educational resources for safer, more comfortable biking.
During the challenge, biking events will take place on campus in in Evanston and Chicago. Stop by the events listed below learn about biking, enjoy some refreshments, and connect with other bike commuters. For updates on the challenge and related events, connect with sustainNU on Facebook or Twitter, or join the Bike Northwestern Facebook group. 
Questions? Email Bike Commuter Challenge team leader, Elizabeth Adamczyk.
Events
Bike Pit Stop – Evanston
11:30 a.m. to 1:30 p.m., Tuesday, June 20
Jacobs Center Plaza at Foster and Sheridan
Stop by to get your bike in shape for riding. Mechanics from Wheel & Sprocket bike shop will be on hand to pump up tires, grease chains, and offer advice on any needed repairs. University Police will be ready to register bikes and sell bike locks.

Bike Pit Stop – Chicago
3:30 p.m. to 5:30 p.m., Tuesday, June 20
Lurie Building, northeast corner of Huron and Fairbanks
Get your bike ready to roll with a free bike check from Village Cycle Center. A bike mechanic will be ready to pump tires and make minor adjustments. Northwestern Police will be on hand to register bikes and sell bike locks.

Breakfast for Bikers – Evanston
8 a.m. to 10 a.m., Friday, June 23
Henry Crown Sports Pavilion, Wellness Suite, First Floor
Show your bike helmet and get a free light breakfast provided by the Northwestern Recreation Fitness and Wellness program.

Bike Commuter Challenge Divvy Event
Noon to 1:30 p.m., Tuesday, June 27
Divvy Station on the east side of University Library, across from Norris
In honor of this year's Bike Commuter Challenge, sustainNU is hosting an event in partnership with Divvy bike sharing to get new riders on bikes, introduce veteran cyclists to Divvy, and inform commuters about the Bike Commuter Challenge. Please join us to take a spin on a Divvy bike, learn about how you can participate in the Bike Commuter Challenge, and register your bike with University Police. Free helmets and lights will be available to all that register.
Back to top