Be an Eco-Rep
Do you want to get more involved in the sustainability community within your hall/college, greek house, or off-campus? Eco-Reps organize activities to raise awareness and mobilize the campus culture around sustainability. 
Why join?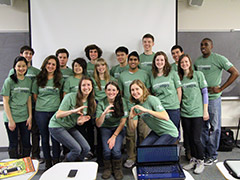 Gain experience collaborating and planning events: Get to know other Eco-Reps and fellow students by planning small activities like clothes swaps, waste-free events, and "Do it in the Dark" energy-conserving movie nights, as well as helping out with campus-wide events, such as Green Cup, Earth Week, and Move Out.
Develop your leadership skills: Eco-Reps hold leadership positions in Residence Hall executive boards, Residential College executive boards, Greek executive boards, as well as on the Eco-Reps executive board.
Expand your knowledge: Eco-Reps meet weekly to learn about sustainability at NU and serve as a resource for fellow students regarding waste and energy reduction, sustainable food and dining practices, and eco-friendly purchasing initiatives. Become an expert on sustainability at NU!
Get free stuff: We provide Eco-Reps with a spork, reusable water bottle, reusable bag, t-shirt, and more to help educate fellow students on the benefits of using these products.
Email the Eco-Reps if you are interested in joining. 
Be sure to check out the NU Eco-Reps FB page.