Past Events
Panel discussion: Making the connection between voting and climate change
When: Wednesday, October 21, 2:00 pm – 3:00 pm 
Missed the panel? Watch the recording now.
Polls show tens of millions of Americans believe more should be done to address global warming and climate change —the challenge is that voters don't understand how their vote can impact these issues.

Join us in a moderated panel discussion in recognition of Global Climate Change Week (Oct. 19 – 25). Hosted by ISEN, CESR, and sustainNU, the discussion will focus on educating attendees and promoting greater awareness on how their vote can effect change and positively influence climate action and environmental progress.

Panelists
Moderator – Abigail Foerstner, Associate Professor, Medill School
Keith Woodhouse, Associate Professor, Department of History
Nancy Loeb, Clinical Professor of Law & Director, Environmental Advocacy Center
Mark Werwath, Clinical Full Professor, McCormick School of Engineering  
David Dana, Director, Professor of Law, Pritzker School of Law  
Kim Suiseeya, Assistant Professor, Department of Political Science
Environmental Book Club
When:  Fall Quarter 2020, First Friday of the Month, 12:00-12:45pm 
Where: Zoom

Join us at our Environmental Book Club, where staff, faculty, and graduate students discuss books they are reading and connect as a community.

Each month sustainNU offers book recommendations related to a theme to help facilitate conversation. See the book recommendations below. If you have another related book you have read or are interested in, please bring it! Books can be fiction, non-fiction, poetry, really anything. The idea is to provide a platform for discussion and insight into books participants might want to add to their reading list.  
Some  book recommendations and themes discussed: 
Theme: Highlighting black environmentalist voices (June)
Rooted in the Earth: Reclaiming the African American Environmental Heritage (2010) by Dianne D. Glave
Birding for Everyone: Encouraging People of Color to Become Birdwatchers (2007) by John C. Robinson
The Environment and the People in American Cities: 1600s-1900s. Disorder, Inequality, and Social Change (2009) by Dr. Dorceta Taylor
Trace: Memory, History, Race, and the American Landscape by Lauret Savoy
Black Nature: Four Centuries of African American Nature Poetry by Camille T Dungy
The Home Place: Memoirs of a Colored Man's Love Affair with Nature by J. Drew Lanham
Theme: Food systems & agriculture (July) 
The Soil Will Save Us: How scientists, farmers, and foodies are healing the soil to save the planet by Kristin Ohlson
Diet for a Hot Planet: The Climate Crisis at the End of Your Fork and What You Can Do About It by Anna Lappe
Stuffed and Starved: The Hidden Battle for the World Food System, by Raj Patel
The Coming Famine: The Global Food Crisis and What we Can do to Avoid It, by Julian Cribb
Soil Not Oil: Environmental Justice in an Age of Climate Crisis by Vandana Shiva
The Blueberry Years: A Memoir of Farm and Family, by Jim Minick
Animal, Vegetable, Miracle: A Year of Food Life by Barbara Kingsolver
Food Routes: Growing Bananas in Iceland and Other Tales from the Logistics of Eating by Robyn Metcalfe
Pause and Notice Nature 
Explore the natural world around you
When: August 2020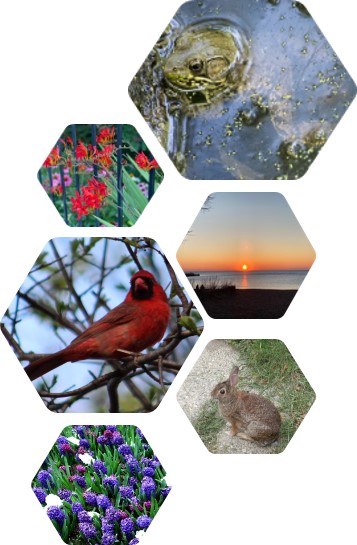 Northwestern's Office of Well-being and sustainNU invite our community to Pause and Notice Nature. 
Whether you live in an area of high rises, ample parks, or a more rural locale, the natural world is all around you and sometimes we need a reminder to notice and appreciate it. Join us for a month of exploration with ideas for experiencing your surroundings in new ways. Discover which species of trees grow on your street, notice different bird songs, or just take the time to watch the sun set. You can do this in your own neighborhood or find a new location to explore. Pausing to notice the natural world around you can have a positive effect on your mental health, reduce stress, create a new appreciation for the natural world, and inspire you to take action to protect nature. 
Use the Pause and Notice Nature calendar for activities and resources to help you explore and connect to nature in new ways. There are new suggestions every day but feel free to jump around and find what resonates with you. You can take it a step further to learn more about what you're noticing by joining our iNaturalist Northwestern Project. Post an image on iNaturalist to crowdsource identification, support biodiversity research, and become a citizen scientist.  
This experience is a great opportunity for individuals or families. We hope you'll join us in remembering to Pause and Notice Nature, exploring the natural world that is all around you. 
Join the iNaturalist Q&A Session
When: August 11, 12:30-1:00pm
Have questions about using iNaturalist? Need help uploading your observations? How do you confirm someone else's identification? Join the sustainNU team to answer your questions about using iNaturalist, participating in Northwestern's Pause and Notice Nature project, and more! This Q&A session will be hosted by a seasoned citizen scientist.