Move Out
You can reduce your environmental footprint when leaving campus by donating or recycling unwanted items. Whether you live on campus or off campus, there are convenient options for reducing the amount of things that end up in the trash when you move out.
On-campus donation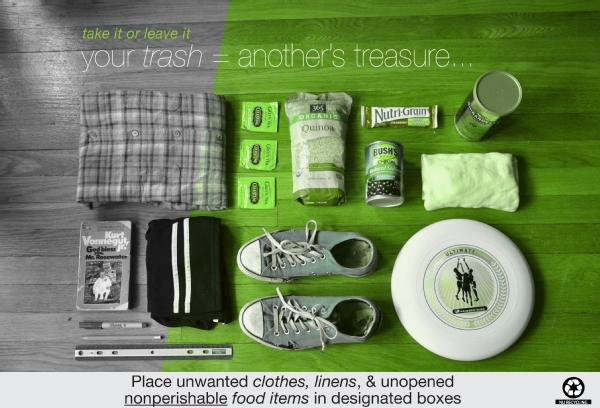 In June, sustainNU offers the "Take it or Leave it" program. Boxes will be placed in the lobby/entry of each residential building to collect clean clothing and linens. Items will be donated to local charities. If you see something you could use in the donation boxes, you are welcome to take it. One person's trash is another's treasure!

Take it or Leave it donates up to 10,000 lbs of reusables to charity annually. This program has been in existence since 1994. For information email sustainNU at sustainNU@northwestern.edu . 
Off-campus donation
If you live off campus, you can give items away using Craigslist or Evanston Freecycle. Some charity groups, such as the Brown Elephant, Salvation Army, and Amvets will pick up donations. When going with this option, be sure to schedule your pickup in advance.  You can also drop items off at the Brown Elephant, Salvation Army stores, and the Goodwill in Evanston.
Recycling
Please remember to recycle cardboard, paper, plastic, cans, and glass when moving out. Check out the full list of what is recyclable on NU's campus. If you live off campus, review Evanston's recycling practices.
Electronics recycling
If you have old electronics that need to be recycled, contact sustainNU for options. For those living off campus, the City of Evanston offers electronics recycling for residents. 
Books
Sell your textbooks back to Norris. Using your campus bookstore reduces the environmental impact by keeping books on campus and avoiding the need to ship them across the country for redistribution. 
Learn more
For more information about recycling and reducing waste at Northwestern visit the recycling page or contact sustainNU at sustainNU@northwestern.edu or 847-467-1374.