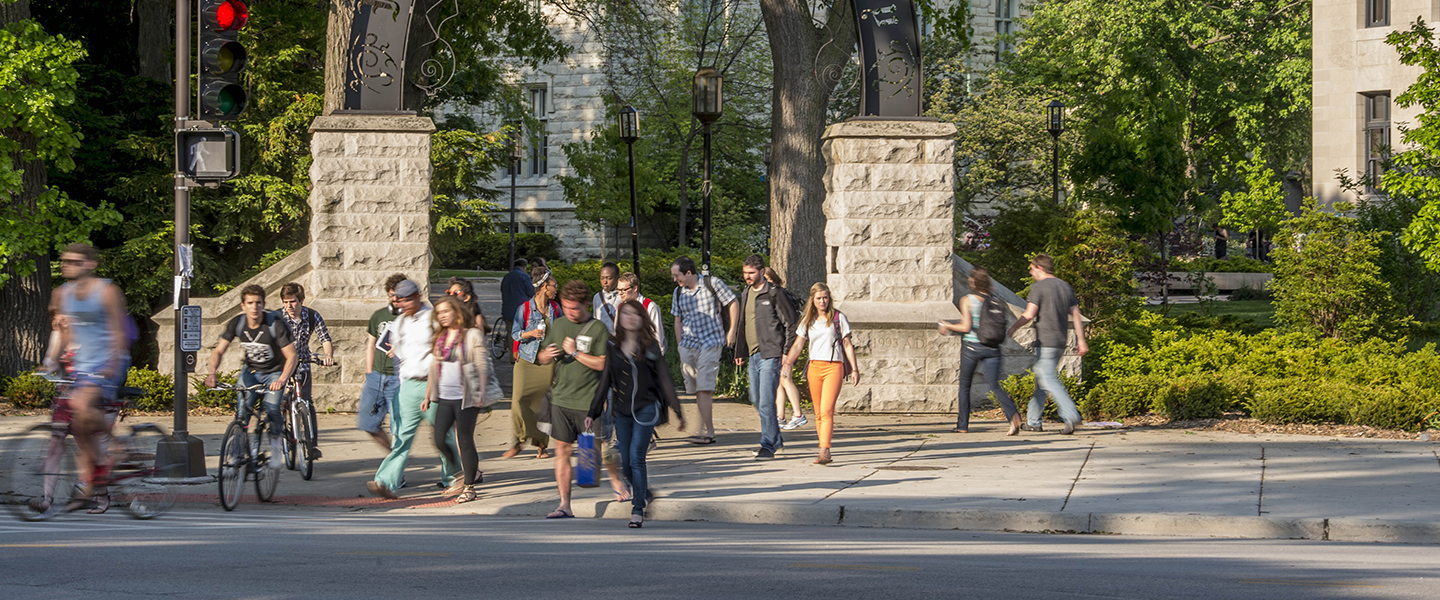 Transportation Survey Results Show Commuters Pick the Fastest and Cheapest Options
Most students and staff choose the fastest and/or cheapest commuting options when traveling to and from Northwestern University's campus, according to the results of an inaugural Transportation Survey implemented by sustainNU.
Walking is the primary mode of transportation for students whether traveling on campus or to and from it, whereas most staff use personal vehicles to travel to and from campus.
Part of a comprehensive effort to evaluate and reduce the University's carbon footprint, the survey reached 22,835 students, faculty and staff. Nearly 30 percent of recipients responded. sustainNU will use the survey to better understand commuting habits and encourage the use of more sustainable transportation modes.
"The survey results will influence Northwestern's Campus Transportation and Parking Master Plan, ensuring the infrastructure of campus supports all transportation modalities," said Kathia Benitez, director of sustainability.
An average of 60 percent of students, across the four seasons, primarily walk when traveling within campus. Using a personal bike is the second most frequent mode of intercampus transportation for students (11 percent).
Yet, surprisingly, 49 percent of the survey's respondents are not familiar with Northwestern's discounted Divvy bike share program, and only four percent of all respondents use the program. Those who use the program, however, reported high levels of satisfaction: 78 percent said they are either somewhat satisfied or extremely satisfied with it.
"Survey results offer insights into how the University could remove barriers that prevent our campus commuters from choosing sustainable transportation options," Benitez said. "We look forward to implementing transportation initiatives that will improve access to electric vehicle charging stations, familiarize the campus community with existing amenities such as the pre-tax transit benefit and look to expand wherever feasible."
Traveling to and from campus
Walking is the primary mode of transportation for students traveling to and from campus from off-campus housing. An average of 24 percent of students walk, except during the winter months, when 20 percent use trains.
The main reason students drive to campus (40 percent) or bike to campus (51 percent) is because it offers the quickest commuting time. Students who chiefly use public transit to commute to and from campus do so because it is the cheapest option (37 percent), out of convenience (26 percent) or because it is quickest (18 percent).
For staff, an average of 44 percent across all seasons primarily drive to campus, followed by 22 percent who take the train. Staff drive mainly because it offers the shortest commute time (34 percent) or because they need the car for other obligations (25 percent). Staff who commute via public transportation do so out of convenience (29 percent) or because it is the cheapest option (24 percent).
Staff primarily bike for the exercise (41 percent), because it is the quickest commute (17 percent) or because it is environmentally friendly (11 percent).
Awareness
For University-offered transportation, respondents were most aware of the Northwestern campus shuttle and pre-tax transit benefits for employees.
Respondents were least familiar with additional bike amenities, including the availability of showers for cyclists, a discount on Kryptonite U-locks and bike pump and repair stations.
Moving forward
sustainNU and its partners will issue the survey biennially to establish a robust set of baseline data.
Using that data, sustainNU will work with stakeholders to better inform the Northwestern community of available transportation benefits and make it easier for people to choose environmentally friendly modes of transportation.
A comprehensive look at the University's carbon footprint during the 2015 to 2016 academic year is available in sustainNU's inaugural Year in Review Sustainability Report.
Northwestern has committed to reducing emissions by 30 percent below 2010 levels by 2030 and achieving net-zero emissions by 2050.
Click here to view more highlights and the full Transportation Survey Report.