Start the Summer Sustainably – Donate, Recycle, or Store Your Stuff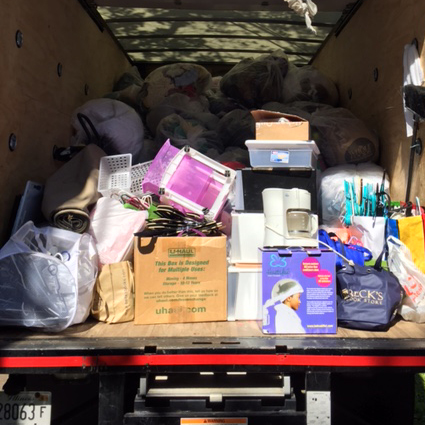 The end of the academic year is rapidly approaching, and students who graduate or leave for the summer often find they have many things that they do not want to take with them. Northwestern is working to reduce the number of unwanted items that end up in landfills by providing easy ways to donate, recycle, or store everything from bikes and electronics to clothing and packaged foods. 
Donating and recycling can reduce waste sent to the landfill, and storing items for the summer reduces the need to ship things back and forth at the beginning and end of each academic year. Here are some options for disposing of or storing things before leaving campus.
Donation
Every year, sustainNU offers the "Take It or Leave It" program, which makes it easy for students living on campus to donate unwanted items when leaving for the summer. Boxes will be placed in the lobby of each residence hall to collect nonperishable food items, clothing, sheets, and small household goods. Food will be donated to Campus Kitchens, and clothing and other items will be donated to local charities. Every year, this program collects more than 10,000 pounds of reusable items for donation.
Students living off campus can donate items to local charity groups such as Goodwill, Brown Elephant, Salvation Army, or Amvets. Some of these groups will pick up donations, but these pickups need to be scheduled, so students should plan ahead. Off campus, students can also sell or give away items using Craigslist or Evanston Freecycle.
Recycling
When moving out, students should recycle all they can. Those living off campus can recycle through the City of Evanston's program. Northwestern's e-cycling program collects electronics for recycling, including computers, cell phones, TVs, speakers, printers, and more. Electronic recycling collection is available all year in the WildCard Office. And during finals week in the spring, e-cycling bins are placed in the lobbies of residential buildings with food service. Visit the sustainNU website for more details about what can be recycled on campus and more donation and recycling options.
Storage
To store things over the summer, Northwestern recommends using Residential Services' official service provider, University and Student Services (USS). Their services include free pick-up and delivery both on and off campus. If you have a bicycle, consider storing it. Campus bike racks should not be used for long-term parking, and your bike will be safer in storage. Look for the USS tent on campus in spring quarter, or sign up online. Whether students are graduating or leaving for the summer, donating, recycling, or storing will help reduce waste and conserve resources.