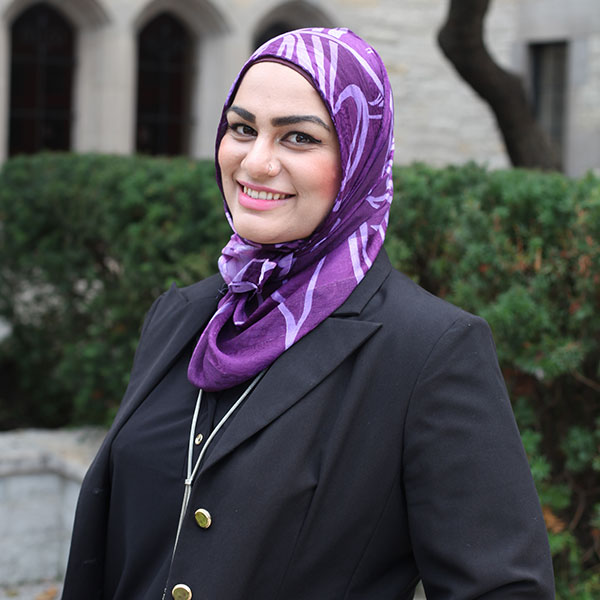 Associate University Chaplain and Director of Interfaith Engagement
Chaplain Tahera Ahmad is a dynamic Muslim 'scholar-practitioner'who serves as the director of interfaith engagement, associate university chaplain and associate chair of the women's residential college at Northwestern University. She also serves as faculty at Garret theological seminary on the Northwestern campus. She was recognized at the White House as a leading Muslim woman and in 2014 she became the first woman to represent the United States at the International Quran Competition in Indonesia where she placed 6th place in the World.
Ahmad has been featured widely in various media networks; most notably in the national PBS documentary, 'The Calling', which portrays the struggle of faith in the 21st century for leaders from the Jewish, Christian, and Muslim faiths. A renowned speaker, Ahmad has worked closely with the U.S. Justice and State departments leading both national and international workshops on cultural awareness of Muslims and religious diversity.

Chaplain Ahmad is a passionate social justice advocate and was featured as the keynote speaker for the 50th Anniversary of the Civil Rights Movement in commemoration of Dr. Martin Luther King Jr. in Chicago. She currently serves on as a trustee on the Parliament of the World's Religions and on​ the first American Muslim-Jewish Advisory Council. For nearly a decade she served as the director of the largest Muslim youth camp in North America and serves on the board of the Muslim Community Center of Chicago.
Her undergraduate education was in biochemistry and graduate work in theology. She studied in the Islamic Chaplaincy and Interfaith Dialogue program at the Hartford Seminary and received graduate certification in the Women's Spiritual Leadership Program and graduate certification in Classical Arabic, and Islamic Studies from Al-Diwan and Al-Azhar Cairo, Ijāzāt (certifications) in Tajweed (art of Quranic recitation) and has taught widely across the USA.