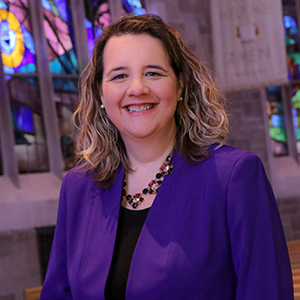 University Chaplain and Executive Director
Rev. Kristen Glass Perez serves as University Chaplain and Executive Director for Religious and Spiritual Life. Much of Kristen's professional work has focused on integrating Religious and Spiritual Life programs and University Chaplaincy into the broad life of the institution through collaboration with many different campus partners. She is passionate about student success and accompanying students as they explore their identities and live out their multiple callings. Her work expanding College and University Chaplaincy into new areas has been featured in many publications including Inside Higher Ed. Rev. Glass Perez is a frequent keynote speaker, workshop leader, and author on themes related to student success and economic hardship, vocation in the undergraduate experience, interfaith understanding, and young adult ministry.

Previously, Kristen served as College Chaplain at Muhlenberg College in Pennsylvania and Chaplain and Director of Vocational Exploration at Augustana College in Illinois. She also served as the founding Director for Young Adult Ministry for the Evangelical Lutheran Church in America, the denomination in which she is an ordained minister of Word and Sacrament.