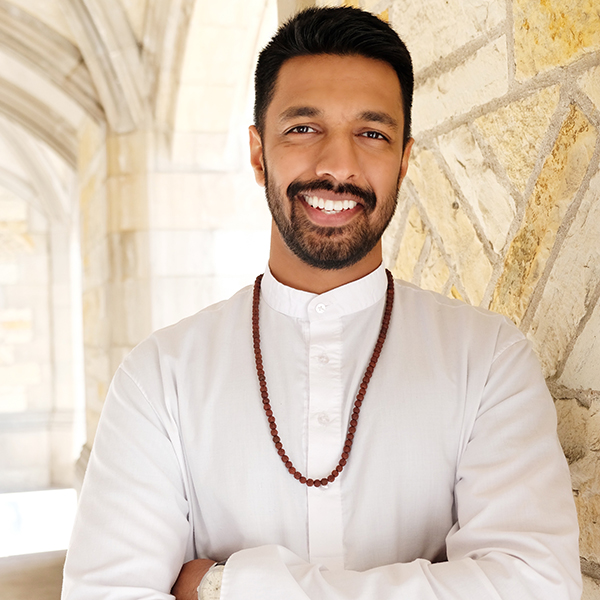 Hindu Chaplain
Email: amar.shah@northwestern.edu
Amar Shah uses he/him pronouns and is referred to respectfully as Amar-ji or Chaplain Amar and affectionately as Amar bhaiya (brother) both within and beyond the Hindu community.

Chaplain Amar Shah is the newest addition to Religious and Spiritual Life at Northwestern University as its first-ever Hindu Chaplain. He currently serves as a visiting lecturer at multiple ashrams in the Midwest for Chinmaya Mission, an international Hindu organization, where he also leads various national programs for youth and young adults.

Shah completed his undergraduate education at Northwestern University in Economics and Global Health Studies. After subsequent experiences as a political organizer in Florida and strategy consultant for Accenture, it was clear that he had an unquenched thirst for spiritual growth. Seeking answers and purpose, Shah studied as a Brahmachari (monk) for two years under the tutelage of world-renowned Swami Prakashananda at a traditional ashram of Chinmaya Mission in the West Indies, gaining expertise in the Advaita Vedanta tradition through a systematic rigorous study of scriptures such as the Upanishads and Bhagavad Gita in their original form and language.

Upon the completion of his studies he returned to the United States in early 2019 and began his own consulting practice with the mission to grow early stage startups in the education and non-profit sectors. In mid-2020, Shah co-founded Selfless, a social good startup to connect social good allies with community organizations, while accepting an invitation to continue his Sanskrit studies at Harvard University as a guest student. 

Now described as a "rising star within the Hindu community," Shah is passionate about servicing society through his tradition as well as public service. Returning to the Northwestern community in a part-time capacity, Chaplain Amar seeks to empower students and staff through proper understanding on techniques such as self-inquiry, meditation, prayer, and spiritual care, stemming directly from his training in Advaita Vedanta. His vision is to create an inclusive environment of self-development to form a healthier and happier Northwestern.