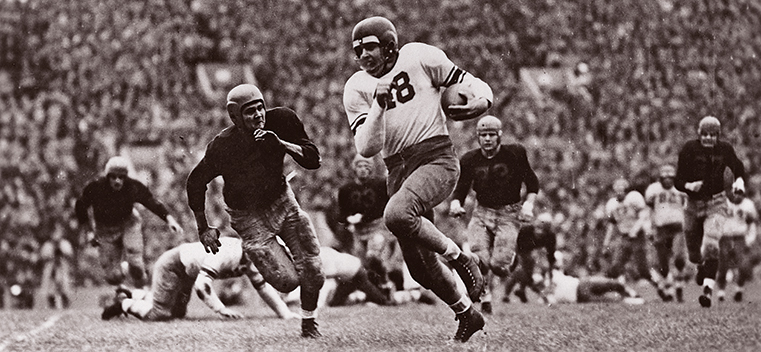 In his first year on the team, Otto Graham (18) pushed the Wildcats to a 27-0 victory over Illinois at Dyche Stadium (now Ryan Field) in 1941. Courtesy of University Archives.
Top Cats
Story Tools
Share this story
Related Articles
Research and analysis by Danny Moran (J13). Stories by Moran, Sean Hargadon, Jeremy Woo (J15) and Cat Zakrzewski (J15).
Tell us what you think. E-mail comments or questions to the editors at letters@northwestern.edu.
Ever wonder about those strange designations we use throughout Northwestern to identify alumni of the various schools of the University? See the complete list.
Find Us on Social Media
Some of the world's greatest collegiate athletes have competed for Northwestern. With help from our readers we've picked our all-time top 10 — plus two fan favorites. Here are our "Top Cats."
Athletes were judged — in collaboration with Northwestern Athletics — on the scale of their individual athletic accomplishments and honors while competing for the Wildcats. Northwestern magazine also solicited fan and alumni opinions through our website, where the University's 50 greatest athletes were featured in an interactive photo slideshow. These votes were taken into account in addition to athletic accomplishments to determine the top 10, along with two "Fan Favorite" selections.