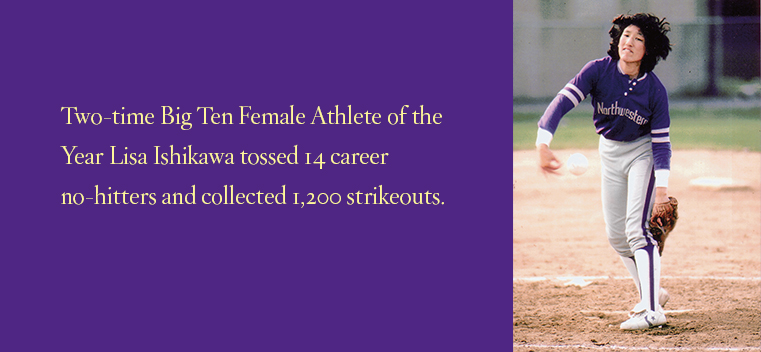 Lisa Ishikawa: Softball
Story Tools
Share this story
Following one of her last career starts, Lisa Ishikawa Sliwa (McC88) walked off the mound having just thrown her 14th career no-hitter, her fifth that season. On her way to the dugout, home plate umpire Dave Matheson stopped Ishikawa Sliwa and asked her for her autograph.
It is hard to blame Matheson for his excitement. Ishikawa Sliwa was already established as one of college softball's greatest stars, having set two NCAA and 20 Northwestern records during her four-year career.
Ishikawa Sliwa had a meteoric ascent during her freshman year in Evanston, when pitching staff injuries thrust her into a prominent role. Armed with a ferocious delivery and a lethal rise ball, Ishikawa Sliwa finished her freshman year 33-7 and set an NCAA record by striking out 469 batters in 302 innings, leading Northwestern to a third-place finish in the Women's College World Series.
In one 11-inning game she struck out 20 batters and walked none. Against Indiana she lost a perfect game in the 10th inning but still earned a 1-0 win. And she once had 17 strikeouts in the first game of a doubleheader against Western Michigan before throwing a no-hitter in the second game.
"When Lisa took the mound, it wasn't a question of whether they would win the game, it was if it would be a no-hitter or a one-hitter," said Dave Sennerud (J87), who covered softball for the Daily Northwestern during Ishikawa Sliwa's sophomore season.
Head coach Sharon Drysdale made sure to limit Ishikawa Sliwa's innings as a sophomore, yet "Ish" managed to stay efficient, at one point throwing 90 consecutive scoreless innings and earning the American Softball Association's Sportswoman of the Year Award.
"She wasn't very strong. She couldn't bench press the bar with barely any weight on it," says Drysdale. "But when she got on the pitching rubber, she was a real fighter."
A back injury limited the electrical engineering major during her junior year. Prior to her final season, she tore a muscle in her pitching arm during the Women's World Championships in New Zealand but returned to dominant form, making her third All-America team. She finished her career as a two-time Big Ten Most Valuable Player and Female Athlete of the Year, setting several school records for earned run average (0.47), strikeouts (1,200) and shutouts (54) that have still not been matched.
Ishikawa Sliwa, a business analyst in the information technology department for Motorola Mobility, lives in Libertyville, Ill., with her husband, Jeff Sliwa (WCAS86). They have two adult daughters.