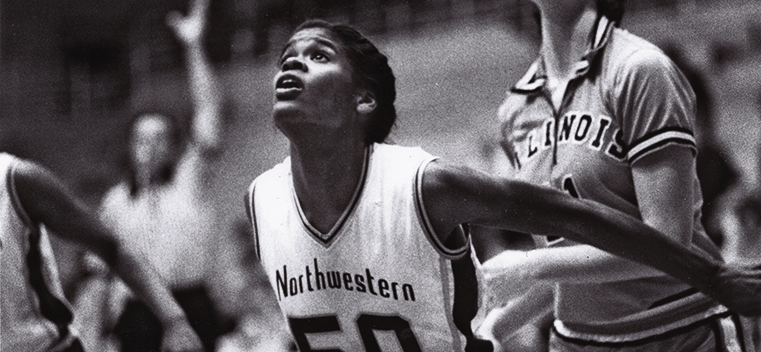 Anucha Browne: Basketball
Story Tools
Share this story
During the 1980s — a defining decade of the Cold War — only one nuke mattered in Evanston. "Nukes" refers to Anucha Browne Sanders (C85), the New York City native who annihilated the Northwestern, Big Ten and NCAA record books during her career.
The team's tallest player at 6-foot-1, Browne Sanders blossomed into the undersized Wildcats' primary offensive weapon during her sophomore season in 1983. She averaged 20.4 points and 9.2 rebounds per game, earning her first of three All–Big Ten selections.
As a junior, Browne Sanders, who said she would "think, sleep and dream basketball," earned her first Big Ten Player of the Year award, becoming the first player ever to lead the conference in both scoring and rebounding. She also showcased her skills on a national stage in a contest against then-No. 1 University of Southern California. Browne Sanders notched 21 points and five steals, outplaying three-time National Player of the Year Cheryl Miller in a narrow overtime loss to the Trojans.
Browne Sanders saved her best season for last. Under new head coach Don Perrelli, she went coast-to-coast as the nation's scoring leader. Her 30.5 points per game still ranks as the sixth-highest single-season average in NCAA history.
"It goes back to an old coaching philosophy," Perrelli told the Daily Northwestern in 1985. "When you have someone as good as Anucha, you give her the ball."
On her way to her second-straight Big Ten Player of the Year award and All-America honors, Browne Sanders set an NCAA record by scoring 30-plus points in six consecutive games. She became the only player in Northwestern history to break the 40-point threshold, doing so three times.
Browne Sanders finished her career as the Big Ten's all-time leading scorer (2,307) and Northwestern's all-time rebounding leader (951), cementing her legacy as the most dominant basketball player in Northwestern history.
Browne Sanders, who lives in Indianapolis, is now the NCAA's vice president of women's basketball championships. She and her husband, Roy, have three children, including Spring Sanders, a rising sophomore on Northwestern's women's lacrosse team. (See "Slam Dunk in the Big Apple," summer 2003.)