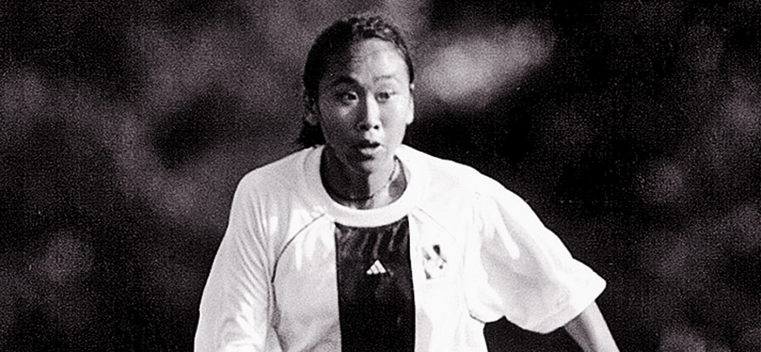 Fan Favorite — Erica Westrich: Soccer
Story Tools
Share this story
Just three years after the University launched its women's soccer program, Erica Westrich Scullion (WCAS00), a 1996
Parade
high school All-American, burst onto the scene. In fall 1996 the freshman midfielder from St. Louis led Northwestern to its first-ever winning season, earning Big Ten Freshman of the Year honors as the Wildcats played in their first NCAA tournament.
"I remember when Erica came in [to the program], you could tell right away that she was just a higher caliber of player," says Sarah Joehl Richards (WCAS99), who played three seasons with Westrich Scullion. "She just had a great presence about her."
As a junior, Westrich Scullion led the Wildcats to a program-best 16-win season and back to the NCAA tournament, where Northwestern lost in the quarterfinals to Florida, the eventual national champs. Westrich Scullion, a center midfielder, earned All-America accolades and was named Big Ten Player of the Year — becoming the only player in Northwestern soccer history to garner both Big Ten Player of the Year and Freshman of the Year honors. She concluded her career with 14 goals and 11 assists (seventh all-time).
Joehl Richards, an occupational therapist in Milwaukee, says Westrich Scullion had incredibly fast feet, the ability to change direction and accelerate quickly and a sense of fearlessness. She was also a lot of fun. "You knew you could get a laugh if you were around her," she says. "She was stress free. She just kind of floated."
An economics major at Northwestern, Westrich Scullion worked as a tax consultant and pharmaceutical sales representative and spent two years as an assistant coach for DePaul University's women's soccer program. She and her husband, Brian, recently moved to Seoul, South Korea, where they are in the process of adopting a son.