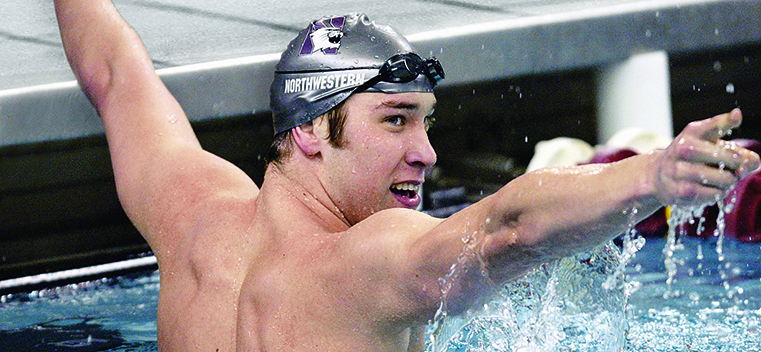 Matt Grevers: Swimming
Story Tools
Share this story
Before Matt Grevers took home four Olympic gold medals in Beijing and London, the world-class swimmer was rewriting the Northwestern record books.
In 2007 Grevers (C07) became the first Wildcat to win three consecutive individual national championships in 77 years, winning the 200-yard backstroke in 2007 and the 100-yard backstroke in 2006 and 2005. He also was a member of 2007's record-setting 400-yard medley relay team, the second Northwestern relay team to win a national championship.
His performance boosted the team to a sixth-place finish in the NCAA championships that year, still the best finish in Northwestern's modern history. (The University won four national titles in the 1920s and '30s before the first NCAA-sponsored championship in 1937.)
In the record books Grevers still holds six individual records (in the 50-, 100- and 200-yard freestyle, the 100- and 200-yard backstroke and the 200-yard individual medley). His name is listed as a leg on all five relay records.
Beyond his success in the pool, Grevers also provided leadership for his teammates.
"He was a lighthearted, outgoing teammate whose goofiness lit up a room and the pool deck," former Northwestern swimmer Katie Braun (C08) remembers. "The team would not be what it was during his reign, or what it is today, without the tone he set for it."
Grevers continues to set records, becoming the University's most-decorated Olympian of all time at the London Olympics in 2012. The two-time Olympian has four gold and two silver medals, including an individual gold (2012) and silver (2008) in the 100-meter backstroke.
In July, Grevers won a gold medal in the 100-meter backstroke and a silver in the 50-meter backstroke at the world championships in Barcelona, Spain. The national team trip also gave Grevers and his wife, former U.S. national team swimmer Annie Chandler, a chance to celebrate their April wedding with a honeymoon in Europe. They live in Tucson. (See "Matt Grevers: Golden Boy," winter 2012.)