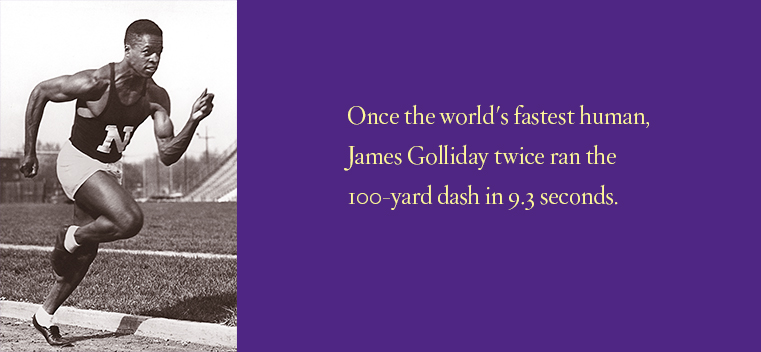 James Golliday: Track and Field
Story Tools
Share this story
James Golliday, once the "world's fastest human," was even speedy in his PJs.
The fleet-footed freshman first caught the attention of his Northwestern classmates and fellow competitors when he ran for Asbury Hall in Delta Tau Delta fraternity's annual pajama race in October 1950. He went on to become the greatest sprinter in Northwestern history.
Golliday (C54) broke all of Northwestern's indoor and outdoor sprint records. During his senior year he tied the 100-yard dash world record at 9.3 seconds during a Big Ten meet. After he equaled the mark for a second time at the conference championship, Jesse Owens told the Chicago American, "Some afternoon that boy will give us a 100-yard dash in 9.2 seconds or even better — and fool the experts who say it can't be done."
Golliday won NCAA crowns in the 100- and 220-yard events in 1952 and was tabbed as a gold medal favorite for the United States in the Helsinki Olympics, but he pulled a muscle in the qualifier and missed out on the 1952 Games.
After two years in the U.S. Army (1953–54), Golliday returned to Northwestern in 1954. Football coach Bob Voigts tried to convince the speedster to play halfback for the Wildcats, but the Olympics beckoned. He skipped the NCAAs in 1956 to prepare and let his body heal, but unfortunately Golliday came up lame again in the 1956 Olympic qualifiers.
"Go-Go" Golliday — or "Jet Jim" or "Galloping Golliday," as the Daily Northwestern writers sometimes referred to him — was a three-time Northwestern Athlete of the Year (1952, 1955, 1956).
At Northwestern's spring sports banquet in 1956, he told the crowd: "When I ... was debating where to go to college, I was warned not to consider Northwestern because I would encounter prejudice to my race," the Chicago Tribune's David Condon reported in his "In the Wake of the News" column. "Now that I will soon graduate, I wish to say that I will never be able to repay Northwestern for all it has done for me. If the many friendships I made and the sympathetic understanding I encountered are prejudice, then all I can say is let's have more prejudice."
Golliday sold insurance in his native California for several years. He died of pneumonia in 1971 at age 39.