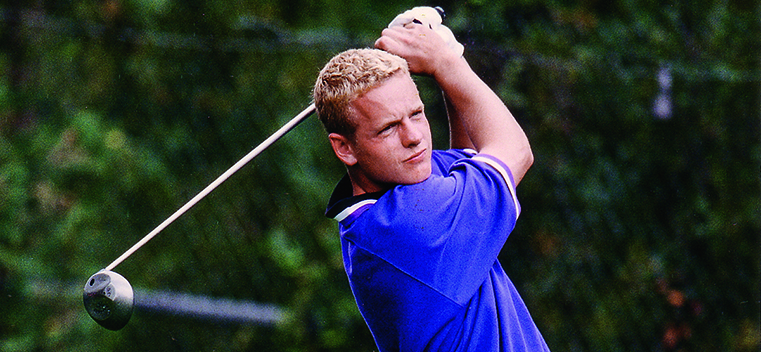 Luke Donald: Golf
Story Tools
Share this story
One of the world's top golfers, Luke Donald (WCAS01) honed his skills in Evanston for four years before hitting the professional circuit. Hailing from the United Kingdom, Donald arrived in Evanston to play under coach Pat Goss (WCAS93), who is Northwestern's director of golf and remains Donald's coach to this day.
Donald's trophy cabinet is well decorated. In 1999 Donald won the NCAA Championship, shooting 284 on the tournament and breaking Tiger Woods' 1996 championship record by a stroke. A four-time All-American, three-time Big Ten Player of the Year, two-time Big Ten Champion and 13-time tournament medalist at the collegiate level, he ranks among the best golfers not only at Northwestern but in NCAA golf history.
"Luke has an unbelievable talent for being consistent," says former Northwestern teammate and close friend David Shaffer (WCAS00, GJ01). "If you're a college golfer, obviously you have to have some strong ability to play the game, but once in a while you hit a crooked shot, you pop one up. I can honestly say I've never seen Luke hit some of the shots that real humans hit."
At Northwestern Donald led the Wildcats not only on the score sheet but also on a motivational basis. Donald's success, Shaffer says, helped push his teammates to improve their own games. He cited Donald's well-rounded personality — for example, Donald majored in art — as another key.
"He's kind of a quiet leader," says Shaffer. "He has a reserved personality. He appears kind of inward-looking, but there's definitely a fire inside him."
Donald, the 2011 PGA Player of the Year and European Tour Golfer of the Year, spent 55 weeks as the No. 1 golfer on the Official World Golf Ranking. He and his wife, Diane Antonopoulos Donald (J04), live in Northfield, Ill. They also have a home in Jupiter, Fla. They have two daughters, Sophia and Elle. (See "Swing Time," spring 2012, and "Former Northwestern Star Tees It Up on Tour," summer 2004.)