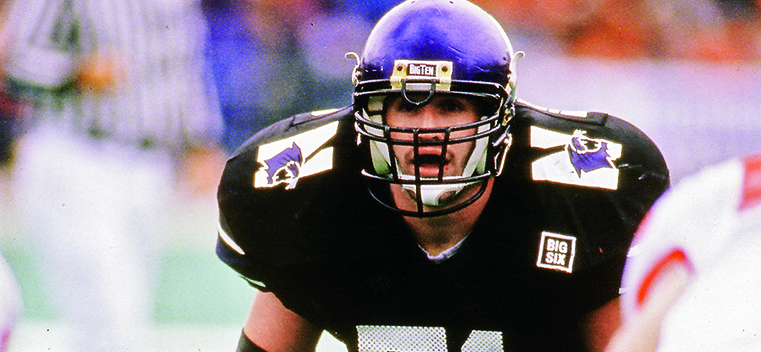 Pat Fitzgerald: Football
Story Tools
Share this story
Pat Fitzgerald (SESP97), the College Football Hall of Famer and head football coach, has become synonymous with Northwestern and easily one of the most iconic athletes in the school's history.
Two-time Big Ten Defensive Player of the Year. Two-time All-American. Two-time first team All–Big Ten. Back-to-back Nagurski and Bednarik awards.
And for fun, you can add "normal guy" to Fitzgerald's long list of Northwestern accomplishments.
"What most would not know was what a really regular guy he was in college," said former Northwestern head coach Gary Barnett. "Not a typical star. Married his high school sweetheart. He was also mischievous, a bit of a prankster."

Fitzgerald led the team to a 10-1 record as a junior in 1995 and to the 1996 Rose Bowl, Northwestern's first bowl appearance since 1949. Though he would miss the game, sidelined with a broken leg, he was named an All-American and returned for his senior year, when the Wildcats went 9-3.
"Pat could digest information and then internalize it to have when he needed it during practice or games," said Barnett. "On the field, his effect was inspiring — his productivity challenged the entire team, offense and defense. He ran the huddle on defense and ran the sidelines when the offense was on the field."
Fitzgerald started 23 career games and totaled 299 tackles — 20 for a loss. He forced five fumbles and intercepted three passes. But his value to Northwestern went — and continues to go — far beyond the numbers.
Fitzgerald and his wife, Stacy, have three sons, Jack, Ryan and Brendan. They live in Northfield, Ill. (See "Mr. Intensity," fall 2010.)