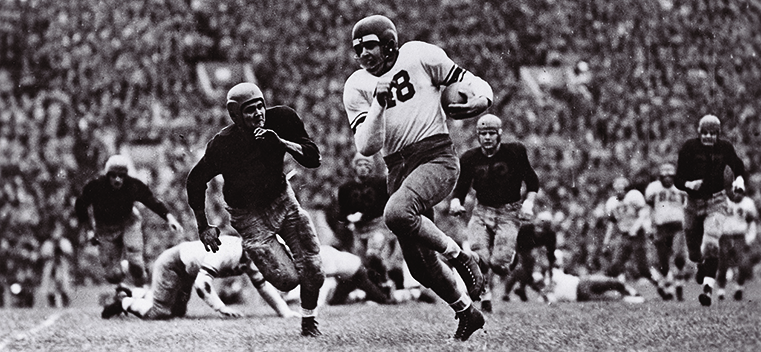 Otto Graham: Football, Basketball and Baseball
Story Tools
Share this story
When it comes to an icon like Otto Graham, it's difficult to separate fact from fiction. Legend has it he was at one point the biggest baby born in Illinois at 14 pounds 12 ounces. Graham, an admitted "fire bug," allegedly set fire to his family's house several times as a child. Musically gifted, he was a state champion on the French horn, one of five instruments he played.
Given his eventual fame, it might be surprising to know that the gridiron legend arrived at Northwestern as a virtual unknown to the Wildcat football coaches (he came to the University on a basketball scholarship). A former all-state back at nearby Waukegan High School, Graham (SESP44) began his Northwestern football career playing for Alpha Delta Phi's intramural teams in fall 1939.
When word began to spread about a freshman with an impressive arm, head football coach Lynn "Pappy" Waldorf went to see Graham in action and offered him a tryout. At spring practices Graham outplayed Northwestern's star halfback Bill DeCorrevont (SESP45), proving to be one of the team's best passers.
After sitting out a season to recover from a knee injury, "Automatic Otto" burst onto the Big Ten scene in 1941. In one of the most important games of his life, Graham led Northwestern to a 14-7 victory over Ohio State in front of a sellout crowd of 71,896 in Columbus. It was the first loss in 37 games for the Buckeyes' young head coach, Paul Brown, who went on to found the Cleveland Browns and win seven pro championships with Graham as his quarterback.
But with pro football still far from reality (Graham said he hoped to one day be a great surgeon), he joined with speedy Bobby Jake (WCAS44) to lead Arthur "Dutch" Lonborg's basketball squad that winter. A deadly shooter, Graham finished as the Big Ten's second-leading scorer. The following season Graham was the Big Ten's second-leading scorer again, pushing the Wildcats to a third-place conference finish and earning All-America honors.
"That boy can shoot from east, west, north or south," legendary Indiana head coach Branch McCracken said of Graham. "No angle is difficult for him, and he's really terrific."
Not satisfied with excelling in two sports, Graham joined the baseball team in spring 1942, primarily playing center field. He was a natural. In his first game, Graham went 3-for-4 against the University of Chicago, including a two-RBI double. He finished his career as a .300 hitter.
On the football field, Graham broke every Big Ten passing record, made two All-America teams, finished third in the 1943 Heisman Trophy voting and was named the Big Ten's Most Valuable Player that same year.
As a senior he also had the chance to captain a veteran basketball squad that hoped to contend for the Big Ten title, but he was drafted into the U.S. Navy Air Corps in the middle of the season.
Graham was voted into the College Football Hall of Fame in 1956, one year after retiring from pro football. No list of the NFL's greatest quarterbacks is complete without this nine-time All-Pro selection. (He also won a basketball title with the Rochester Royals.)
Graham, a colorectal cancer survivor, became a spokesman for cancer awareness and in 1980 received the American Cancer Society's award for courage. Graham also received a 1954 Northwestern Alumni Association Merit Award. He died in 2003.