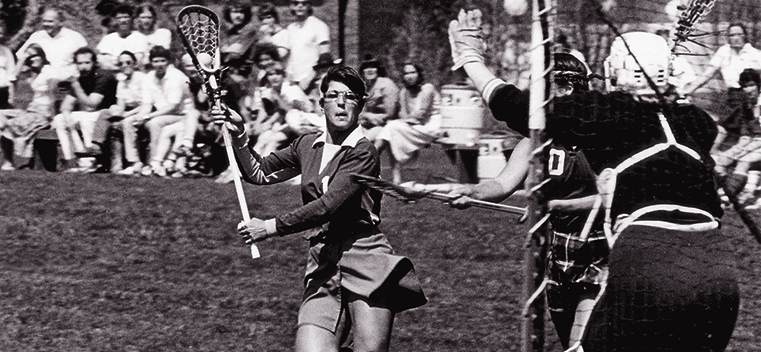 Kathleen Kochmansky: Field Hockey and Lacrosse
Story Tools
Share this story
Kathleen Kochmansky Fluharty (SESP85) came out of West Chester, Pa., as one of the most highly recruited field hockey players in the country at a time when Title IX was opening up opportunities for female student-athletes. She took full advantage of those opportunities at Northwestern, where she excelled at field hockey and lacrosse and became the Wildcats' first female two-sport All-American.
A brilliant stick handler on the pitch, Kochmansky Fluharty led the Wildcats to the field hockey program's first NCAA tournament during her sophomore season in 1982. A year later she propelled Northwestern to a share of the Big Ten title and a berth in the Final Four during a program-best 20-win season. The three-time field hockey All-American led Northwestern to the Big Ten regular season championship and a No. 2 national ranking during her senior season.
Kochmansky Fluharty was one of 13 Wildcat field hockey players on Northwestern's first lacrosse team. Cindy Timchal, who had coached Fluharty in field hockey, lacrosse and basketball at Unionville High School in suburban Philadelphia before coming to Northwestern to launch the lacrosse program in 1981–82, shaped that team into a national contender.
During her freshman season Kochmansky Fluharty, an attacker with a game built around ballhandling, speed and strength, led the nation in scoring. The three-time lacrosse All-American (1983–85) finished her career with 198 goals.
"When I envision her, I always think of her drive to the goal," says Lucy McMillan (WCAS86). "She was always kind of leaning forward. She was going to get to the goal no matter what, almost like a bulldozer on a construction site — nothing was going to stop the steel."
McMillan says Kochmansky Fluharty also excelled as a leader. "I was not a scholarship athlete, but she took me in as somebody who wasn't nearly as competitive or skilled and valued me as a team member as much as anybody else and knew that I had to perform at a certain level to make the team perform at a certain level. She made me feel like I was a contributor."
Kochmansky Fluharty, known to many as "Coach KK," runs field hockey and lacrosse camps and clinics near her home in Millsboro, Del., a business that she started at Northwestern as a way to make money during the summers. She also coaches both sports at Sussex Technical High School in Georgetown, Del.
Kochmansky Fluharty and her husband, Kevin, have a daughter, Maxine, who is a national championship–winning field player hockey at the University of Maryland. (Maxine also played alongside Northwestern senior field hockey player Nikki Parsley during the Junior World Cup in Mönchengladbach, Germany. Parsley attended Kochmansky Fluharty's camps during high school.) Kochmansky Fluharty and her husband also have a son, David, who plays lacrosse at the University of Tennessee.