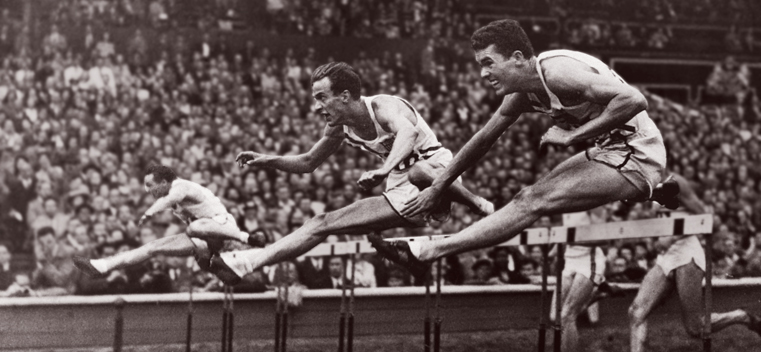 William Porter, center, won a gold medal in the 110-meter hurdles at the 1948 Olympic Games in London. Led by Porter's Olympic record time of 13.9 seconds, the Americans swept the medals in the event. Porter was inducted into Northwestern's Athletic Hall of Fame in 1984 as a charter member. Photo © Bettman/Corbis.
Wildcat Olympic Medalists
Story Tools
Share this story
Tell us what you think. E-mail comments or questions to the editors at letters@northwestern.edu.
Ever wonder about those strange designations we use throughout Northwestern to identify alumni of the various schools of the University? See the complete list.
Find Us on Social Media
Because Northwestern's greatest athletes were measured specifically by their accomplishments while competing for the University, many Olympic champions did not qualify because their feats did not take place while they wore Wildcat purple. The following is a list of Northwestern's other Olympic medalists.
Kenneth Huszagh (L15), swimming, Stockholm 1912; silver medal, 4 x 200-meter freestyle relay; bronze medal, 100-meter freestyle
Bryan Hines (J24), wrestling, Paris 1924; bronze medal, freestyle bantamweight
Ralph Breyer (EB25), swimming, Paris 1924; gold medal, 4 x 200-meter freestyle relay
Sybil Bauer (C26), swimming, Paris 1924; gold medal, 100-meter backstroke
Richard "Dick" Howell (WCAS26), swimming, Paris 1924; gold medal, 4 x 200-meter freestyle relay
Robert "Bob" Skelton (WCAS26), swimming, Paris 1924; gold medal, 200-meter breastroke
William "Droegie" Droegemueller (WCAS28, FSM32), pole vault, Amsterdam 1928; silver medal
Albert Schwartz (EB30), swimming, Los Angeles 1932; bronze medal, 100-meter freestyle
Betty Robinson Schwartz (SESP34), track, Amsterdam 1928 and Berlin 1936; 1928 gold medal, 100 meters; 1928 silver medal, 4 x 100-meter relay; 1936 gold medal, 4 x 100-meter relay
Annette Rogers Kelly (SESP37), track, Los Angeles 1932 and Berlin 1936; 1932 gold medal, 4 x 100-meter relay; 1936 gold medal, 4 x 100-meter relay
Bill Porter (WCAS47, Nav47), track, London 1948; gold medal, 110-meter hurdles (set Olympic record)
Nancy Simons Peterson (WCAS59), swimming, Melbourne 1956; silver medal, 4 x 100-meter freestyle relay