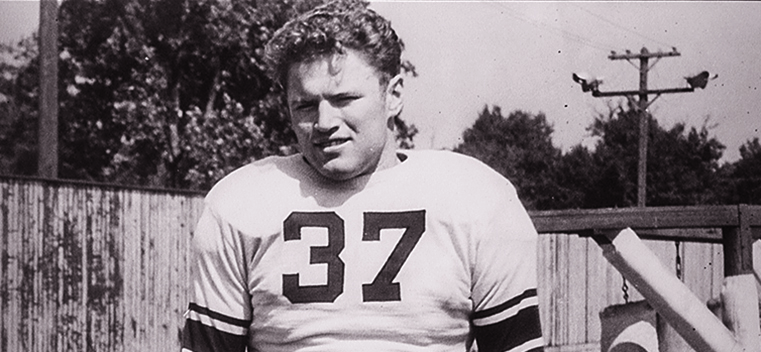 Jack Riley: Wrestling and Football
Story Tools
Share this story
One of four brothers to play varsity football for Northwestern, Jack Riley (EB32) became an important part of the offensive line for head coach Dick Hanley's double wingback attack alongside fellow sophomore tackles Paul "Tiny" Engebretsen (SESP33), a future Pro Bowler in the NFL, and Dallas "Dal" Marvil (SESP32).
As a junior, Riley was part of one of the greatest football teams in Northwestern history. The 1930 squad, filled with experience, size and power, outscored its opponents 168-22 on its way to a conference championship. The duo of halfbacks Ernest "Pug" Rentner (SESP34) and Lafayette "Reb" Russell (SESP32) grabbed many of the headlines during the 7-1 season, but the team's running strength was built on its dominant front line. The team's only loss in 1930 came to Knute Rockne's powerhouse Notre Dame in what turned out to be Rockne's last game.
As a senior in 1931 Riley was unanimously named All–Big Ten and All-America. The trio of Riley, Engebretsen and Marvil helped lead the Wildcats to an undefeated regular season.
But Riley, who was inducted into the College Football Hall of Fame in 1988, truly shone in wrestling, a sport he had never competed in before coming to Northwestern. After seeing the 235-pound Riley make his mark on the gridiron, head wrestling coach Orion Stuteville (D31, GD33, FSM39) convinced him to come out for the team. Riley agreed to take up the sport in order to stay in shape during football's offseason. He soon became the nation's best.
Riley swept through the Big Ten heavyweight circuit with ease in 1931, becoming one of three Wildcats to capture a conference title that season. However, he outperformed his teammates at the national championships, winning his first NCAA heavyweight crown. Riley did not lose a single match that season.
The following season, Riley lost his Big Ten heavyweight title by dropping an overtime decision to Indiana's Bob Jones in the finals. That loss only fueled his fire at the NCAA meet, where Riley won his second consecutive national title. He remains the only Northwestern wrestler to win back-to-back NCAA championships.
Later that year Riley earned a place on the 1932 U.S. Olympic team. He earned a silver medal at the Los Angeles Games.
Riley returned to coach the Northwestern wrestling team from 1948 to 1957 and later owned a Chicago-area lighting company. He died in 1993.