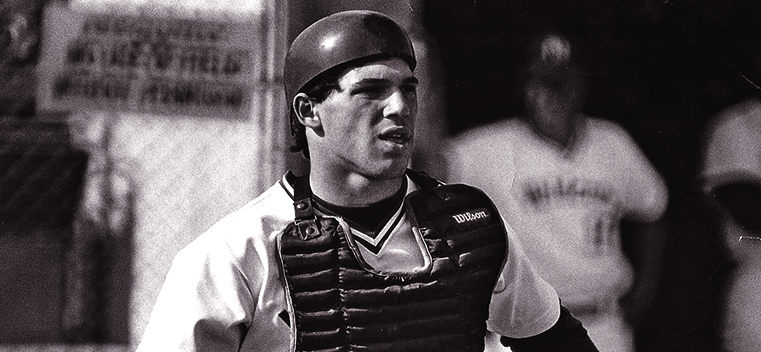 Fan Favorite — Joe Girardi: Baseball
Story Tools
Share this story
You might know Joe Girardi as the manager of the New York Yankees. You might remember his 2006 Manager of the Year award with the Florida Marlins, his 15-year professional career or the four championship rings he owns as a player and manager.
But Girardi (McC86) also stands historically as one of the Wildcats' greatest baseball players. As a catcher from 1983 to 1986, he was a three-time All–Big Ten selection. The engineering major was also a three-time Academic All-American while leading the team from behind the plate.
"He was a great teammate, on and off the field," Grady Hall (SESP86, KSM95), an All-American pitcher for the Wildcats, says of his former battery mate. "On the field he was very dependable. We were in complete sync."
Statistically, Girardi wasn't shabby either. The Peoria, Ill., native hit .351 over his four years in Evanston, with 24 home runs and 156 RBIs. The pros took notice: after graduation the Chicago Cubs selected him in the fifth round of the 1986 Major League Baseball draft.
And though his achievements as a manager may outshine the work Girardi did as a Wildcat, he remains a fan favorite and one of Northwestern's most respected baseball alumni.
Girardi, now in his sixth season as the Yankees manager, and his wife, Kim Innocenzi Girardi (SESP87), live in Purchase, N.Y., with their three children, Serena, Dante and Lena. (See "Great Expectations," summer 2008, and "Diamond Joe," Northwestern Perspective, fall 1998.)