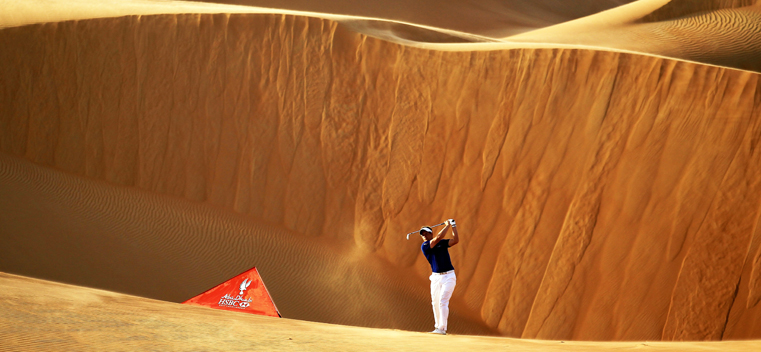 Luke Donald plays among the 250-foot tall sand dunes before the Abu Dhabi HSBC Golf Championship in the United Arab Emirates in January 2012. Getty Images.
Swing Time
Story Tools
Share this story
Barbara Mahany (GJ82) is a freelance writer in Wilmette, Ill.
Tell us what you think. E-mail comments or questions to the editors at letters@northwestern.edu.
Ever wonder about those strange designations we use throughout Northwestern to identify alumni of the various schools of the University? See the complete list.
Find Us on Social Media
When golf pro Luke Donald lands in the rough, his go-to guy is Pat Goss, the Wildcats' men's golf coach.
It's an occupational hazard when your dad happens to be coach of the guy gunning for golf's No.1-in-the-world slot. And, seriously, it is so annoying.
It goes like this: You are 8 or 10 or 13, and you are snuggled on the leather couch in the family room, you and your two sisters, under a purple fuzzy blanket. You are absorbed in Wizards of Waverly Place, your favorite show on the Disney Channel, when all of a sudden your dad comes barreling into the room, grabs the remote out of your hand and starts barking, "It's a work emergency. It's a work emergency."
And you, used to being shooed away from the flat screen for these so-called emergencies, move "like livestock," according to your mother.
In other words, you don't budge. Instead, you start that line of couch-defense questions you learn to unleash when your dad is Pat Goss (WCAS92), who happens to be Northwestern University's director of golf, head coach of the Wildcats' men's golf team and the longtime swing coach for British pro Luke Donald (WCAS01). Donald is arguably the best short-game golfer ever to hit the links on either side of the pond and the guy ranked No. 1 in the world for the better part of this past year.
"What place is he in?" you want to know, before you consider moving.
What you mean is, how high are the stakes for Luke, whom you have known since you were born, Luke who used to baby-sit you, who has strung lights on your Christmas tree, who picked you up from school when your mom and dad were at the hospital the week your grandpa was dying (and wound up signing, oh, 100 or so backpacks there in the schoolyard).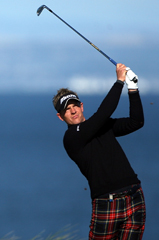 But before you can say another word, your dad has hijacked the channel, and he's watching prerecorded swings of the guy you know simply as Luke, who has pretty much put in a 9-1-1 call to your dad's cellphone. He is dialing all the way from the 2011 BMW PGA Championship in Surrey, England, to tell your dad he's struggling and needs help now — and not one Disney minute later.
So your dad, always at the ready for any one of his golfers but most especially for Donald, is hitting pause and rewind like there's no tomorrow — because, in fact, there is no tomorrow when it comes to Sunday afternoons on the pro golf tour.
Goss has to pinpoint what's awry with that swing, then get on the horn and talk Donald off the golfer's ledge or out of the deep dark trench of depression that most world-class golfers know inside and out.
And so it went that nail-biting Memorial Day weekend of 2011, when Donald went on to win the tournament. He snared the No. 1 spot but not without a playoff duel on the 18th, where he outshot Lee Westwood, his countryman who had been No. 1 in the world till he plopped the ball in the water, clearing the green for Donald, who sublimely putted his way into the perch he'd been chasing for plenty a while.
Luke Donald TV 24/7
Welcome to the world of Ally, Claire and Maddie Goss, who have grown up in a house where the TVs are practically preset to the Luke Donald channel and where a bogey on the 15th hole at some faraway golf course means you'd better head next door if you want to catch the rest of your shows.
Oh, sure, plenty of times Goss — who is 42 and could have been a double for Opie back on The Andy Griffith Show, with his copper top, a sprinkling of copper-colored freckles and that cute little gap between his top front teeth — is inside the ropes.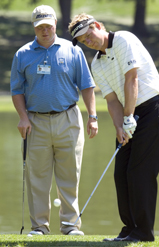 That's when he's whispering distance from Donald — who is 34, but still has something of an impish British schoolboy look about him, the way his sun-bleached spiky blond hair won't sit where it belongs — as the two of them wend their way to the winner's circle at some world-class course.
But some 300 days out of the year, their connection comes via wireless ways and that much-coveted clicker.
That's how it has to be, what with Goss always on call, always doing double duty, coaching Northwestern's eight men's golfers to the top of the Big Ten leaderboard (they've won four conference titles since Goss took over in February 1997), as well as keeping an eagle eye on Donald, practically 24/7, for the last decade and a half.
Oh sure, it's a job, and Goss is paid for it. (In fact, among the strategically expanded ranks of "Team Luke" — all under Goss' vigilant watch — you can now count a physical therapist who keeps the soft-tissue kinks at bay and an English rugby coach who's training the gentle-mannered Donald to think like an assassin: "It's one shot, one chance, and you need to hit right between the eyes," says Dave Alred, the kicking coach with killer instincts.)
But this match-up between Goss, a Midwestern born-and-bred fellow from Crystal Lake, Ill., who, as he describes it, "talks through my nose," and his No. 1 player, a proper Brit who never ceases to jab his coach for that nasal Chi-cah-go twang, is, to be sure, a two-way labor of love.
 The thing is, they've been an unlikely duet since a mixed-up day back in September 1997 when, at O'Hare International Airport, Goss circled for an hour in the pickup lanes while Donald, used to the proper British way of not having to leap in front of speeding cars from the curb to catch a ride home from the airport, sat politely inside the terminal with his one suitcase and, thankfully, his golf bag. Donald was a mere lad of 19 back then, just landed from England, where he'd grown up the youngest of four in High Wycombe, a sleepy hamlet 30 miles outside London. The one-time choirboy painted, played piano, rugby and cricket — and, yes, partook of the United Kingdom's national obsession, golf.
He was, he claims, an "average-at-best golfer," with a drive that was neither high nor long, a drive finely suited to his homeland's windswept links, but one that wouldn't cut it here in the United States, where it's all about distance.
From the start, though, Donald had a masterful knack for getting out of trouble — specifically, wedging his way out of bunkers and bad spots.
Despite his worries about Chicago winters (and he had them, all right — snow in April, for starters), he'd picked Northwestern when he didn't get into Stanford, where a kid named Tiger Woods had been tearing up the course.
Wildcats Coach's Winning Ways
Back on that cross-wired day at O'Hare in autumn '97, Goss was launching into his first full year as men's golf head coach and was just coming off of one of Northwestern's finer season finishes, with a not-since-the-1940s string of four tournament wins and a top-10 finish at that year's NCAA Championship. (The Wildcats had hosted the season closer at Conway Farms Golf Club in nearby Lake Forest, Ill., and hiccupped in the final round, dropping from almost winning to seventh place.)
Golfweek, one of the very magazines that had been piled high in Goss' boyhood bedroom, had just trumpeted Goss as its 1997 National Coach of the Year.
And while Donald might have had his doubts about his ways with that driver, Goss — who first picked up his dad's 7-iron when he was a 7-year-old and quickly became one of those "rug rats" who swung "from sunup to sundown" on a family-owned par-4 course in Woodstock, Ill., just beyond the outer fringes of Chicago's northwest suburbs — had not a doubt in the world about his just-off-the-plane putter-pitcher supreme.
Great Golfer at Northwestern and Beyond
"We knew he'd be our best player," says the coach in classic Goss speak, straight and to the point. Donald went on to win the individual NCAA golf championship in 1999.
Goss is, and always has been, unabashed in his belief that Donald could be No. 1 in the world.
And not just on the course.
Because when you're in Pat Goss' golf program, it's not just about winning or how you swing that club.
It's about digging deep inside your soul and figuring out what you're made of and what you might bring to this course called life.
It's about hard work and perseverance and realizing nothing comes easy. It's about day-in-and-day-out practice and taking it up a notch, one click at a time. It's about quietly getting the job done.
And it's a credo that Donald — who's defied all drama and stuck with the same coach for a practically unheard of 15 years — bought into from the get-go.
"Pat's one of these guys you just right away feel like you've known a very long time," Donald says in a March interview by cellphone, as he motors his jet-black Mercedes C63 from his home in Palm Beach Gardens to the 2012 Transitions Championship in Tampa Bay. There, in yet another Sunday afternoon sudden-death playoff, this time a four-way tie, he would nail a 6-foot-7-inch putt for a birdie to win it and regain his No. 1 standing, shoving aside contender Rory McIlroy, who'd stolen his prime perch for two weeks in March.
"The core of a relationship between a player and a coach is trust," Donald continues. "You just have a feeling as a player that everything's right.
"And with Pat, I value his opinion not just on my golf swing, but on everything in my life — the death of my father [suddenly, back in November, just three days before Donald's second daughter, Sophia, scored a birth date of 11-11-11], how to deal with that, or the pressure of being No. 1."
Goss Levels the Playing Field
"I've never had any doubts," Donald says emphatically. "He is, for me, the great equalizer."
Indeed, it is singular, in an era of another day, another swing guru, for a player and coach, his college coach no less, to be so solidly linked all these years. (Tiger Woods, for instance, is on guru No. 3.)
With this twosome, the ascent has been wholly together, coach and player propelling each other to the top of their respective games.
Goss points to Donald, and Donald to Goss, as soon as either is asked how they got there. And, just as quickly, both let you know that we've not seen yet where they're headed.
Being No. 1 in the world is no destination, not for either of them. It's merely a stop along the way for a pair who believe, as Goss says, "winning is temporary."
He adds, quickly: "Don't get me wrong, I love to win. But to win one week, lose the next, it doesn't have value. What does have value is continuing to improve and embracing the next challenge."
Kissing the cup at one of the majors might be next.
There lies a dreamed-about prize and one ironclad way to hush up the blathering of naysayers and doubters who insist you can't make the annals of golf greats without winning a major.
The numbers show that Donald is already among golf's greats. Last season he pocketed a tour-leading $6.68 million in PGA winnings and another 3.22 million euros courtesy of the European Tour coffers, becoming the first player ever to win both the PGA Tour and European Tour money titles in the same year. He spent 40 straight weeks as world No. 1
before a two-week dip to No. 2 in March. Donald also spent two weeks at No. 2 in mid-April but reclaimed the top spot with a third-place finish at the Zurich Classic of New Orleans at the end of the month. He held the No. 1 spot as Northwestern magazine went to press in early May.
But, in the world according to Goss, here's the only thing worth scribbling on your Luke Donald scorecard: "None of this has come easily," says the coach who sometimes sounds like a very proud papa. "Every success he's had has been precipitated by some form of struggle. Luke became No. 1 in the world in an era when we were told he couldn't become No. 1. We were told length [of the drive] was a prerequisite. So what did we do? He has great putting, he has a great short game, he has great iron play. We played to his strengths."
Therein, says Goss, are the take-home lessons: "It's all about the value of work. There are no shortcuts. It's perseverance and resolve. And almost every great success comes with failure."
The coach isn't finished: "Golf teaches patience, humility and character — from the way you call penalties on yourself, to the way you take off your hat when you shake hands at the end, winner or loser."
Remote Control Key to Coaching Luke
Here's how teacher and student, player and coach, keep at it, no matter the season, no matter the miles apart: They text and talk at least once a day. Goss has a play-by-play app on his BlackBerry so, except for when Donald is playing overseas and the PGA app doesn't work, he can yank the little black smartphone from his pocket and keep tabs on all the birdies and bogeys that make up a day.
Ever since Christmas, much to his girls' dismay, Goss has had a Slingbox, a gizmo that lets him tune into his home TV, whenever, wherever he is.
"I can change the channel on 'em from here," he says of his unsuspecting daughters, trying hard to swallow a snicker. He's got the DVR back home recording round-the-clock, wherever Donald swings, and this Slingbox lets Goss pop up PGA golf on his smartphone, his laptop or, lately, his iPad, no matter how far from the couch-bound clicker.
Now he needn't miss a single hook, slice or sinker.
The backstory here is that Goss got stuck in too many airports too many times — during too many PGA pinches — and couldn't find a TV when Donald desperately needed his eyeballs and brains.
"There've been times," says Donald, "when I've not felt very comfortable with my game, and I'll get him to come out. His primary job is Northwestern, but he'll come out the next day if I'm struggling."
Goss' magic trick, says Donald: "He's so level-headed. I have a tendency to get down on myself. He has this way of finding the right thing to say to make me feel better again. Even if I'm really struggling, hitting poorly, he'll tell me that's the way to get better. It just sends this message to my brain that I'm doing the right thing. He focuses me."
Don't forget: Donald grew up on Goss' watch. When their story teed off, Donald was a scrawny 5-foot-9 freshman, a smart one, whose world was mostly confined to the course, the classroom and a painting studio in Kresge Centennial Hall. (Perhaps the epitome of the modern-day Renaissance golfer, he has a degree in art theory and practice, still paints and has spent days blending his own praise-winning California wines, a claret and a chardonnay produced by Terlato Wines International. He even had a hand in the design of the label and packaging.)
Goss, then 27, was the youngest head golf coach in the country, newly married, not yet with kids.
But, already, Goss ran his team like a family. With Lindy, his den mother of a wife, they hosted the annual players and parents Labor Day barbecue in their Evanston backyard and invited the team for a sit-down china-and-crystal Christmas dinner (complete with hilarious white-elephant gifts), and any time one of the players needed to talk, all he had to do was knock at the Gosses' big black front door.
So it was for Donald, who right away became part of what everyone refers to as "Pat's family."
And that's what makes this more than just another golf story. It's quite frankly a case study in old-fashioned devotion, with heaping helpings of heart — pure, plain and plenty uncommon, at least on the PGA circuit. 
"Everybody in their life needs some luck. And Luke meeting Pat is his luckiest stroke," says Donald's wife, Diane Antonopoulos Donald (J04) — whom he met at an Evanston watering hole at the end of his senior year, when she was a freshman who happened to be sporting a Union Jack tank top the night she first encountered the Englishman.
After all these years, she says, Pat and Luke know each other "almost like a husband knows a wife. Without saying a word, they each know what the other is thinking, and they know just what they need from each other."
Goss is "way more than a swing coach," she says, reeling off story after story. Like how they helicoptered in to golf courses in southwest Ireland to knock off a few rounds prior to the 2010 Open Championship at St. Andrews. Or holed up before the Masters in some über-exclusive crash pad. Or how, when Donald "lost pretty spectacularly" to Ernie Els back in February's World Golf Championships–Accenture Match Play Championship, Pat was the only one who could pull off Luke's emotional rescue.
In the end, says Diane, it boils down to this: "One of the great things about Luke having Pat in his life is that, when you attain the level that Luke is at, it's hard to get people to be honest. Pat is not afraid to be honest, to stick his neck out and say something that needs to be said. To have people in your life who genuinely care, to have people tell you the truth, it's exceedingly rare. And it's priceless."