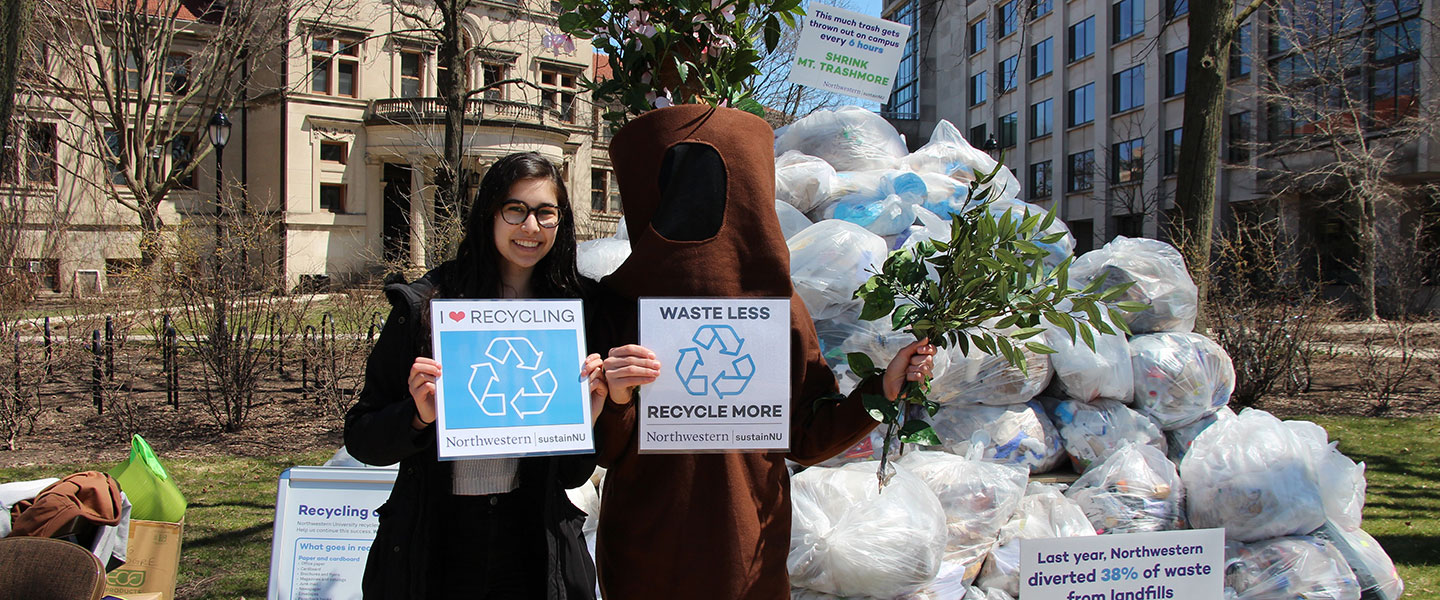 Ten Tips for Sustainable Living at Northwestern
1. That can be recycled?
Northwestern University takes its recycling game seriously. Recycling and composting efforts divert 40 percent of waste from the landfill, but we're trying to reach 50 percent.  Learn about all of the ways you can help here.
2. Laundry doesn't have to be so complicated.
Full loads. Cold water. Wash only when necessary. Dry on a rack. These are four ways you will save water and energy when doing laundry. Plus, washing your clothes less frequently reduces the amount of microplastics (tiny plastic pieces) your synthetic fabric clothing will shed and keeps them nicer for longer. #WhatsInMyWash? 
3. Let the light shine in.
Make use of natural lighting by opening shades and turning off lights during daylight hours. Not only does using natural light lead to less energy being used, but also can improve your productivity and comfort, and regulate your circadian rhythms – take that midterms (Leslie, 2003). When we get into the winter months, try embracing a cozy atmosphere with smaller task lights, like lamps or candles powered by energy efficient CFL or LED bulbs. These can be more efficient than full overhead lighting and might make the winter feel a little less blue.
4. 3 ways to stop a vampire.
Vampires aren't just Dracula anymore, they are also devices that continue to use energy and drain power – even when they are turned off! Kick those energy suckers to the curb by unplugging your devices, using power strips and enabling power management settings on your devices. Common vampires include phone chargers, cable boxes, computer cables, or coffee pots. This standby power can add up to as much as 20% of your monthly electricity bill and add up to $3 billion in energy in the U.S. every year.
5. Tupperware, Tupper-where?
Reusable food containers are always the best way to go. Say goodbye to gross, always slightly soggy, wasteful to go boxes and use the Ozzi program in Northwestern's Dining Facilities. Walk out of the dining hall with these reusable to-go boxes when you are rushing to class or saving for a midnight study break snack. 
6. Let's go ride a bicycle.
Cutting your carbon emissions is easy and good for your health when you ride your bike. Plus, the University Police have great programs to help you get around safely and in style. Register your bike with them and get a free bike helmet and lights. There are bike racks and bike repair stations across campus. Click to see the Evanston and Chicago campus locations. 
7. Make a difference and make friends.
Northwestern has 18 student groups that are passionate about the environment. Find the right one for you and make a difference. 
8. Commit to learning more.
Follow sustainNU on social media (Facebook, Instagram, Twitter). Join ISEN's newsletter.
Take a course relating to sustainability.
9. Be the sustainable host with the most.
Try to make the next party or event you plan more sustainable! sustainNU provides lots of resources and support for low to no waste events. Learn more about sustainable event planning here.
10. Eat food. Mostly plants.
Eating a healthy, plant-rich diet is one of the
most impactful solutions to climate change.
You don't need to go vegan to make a difference. Start by incorporating some meatless meals into your diet or 
pledge to go meatless on Mondays.