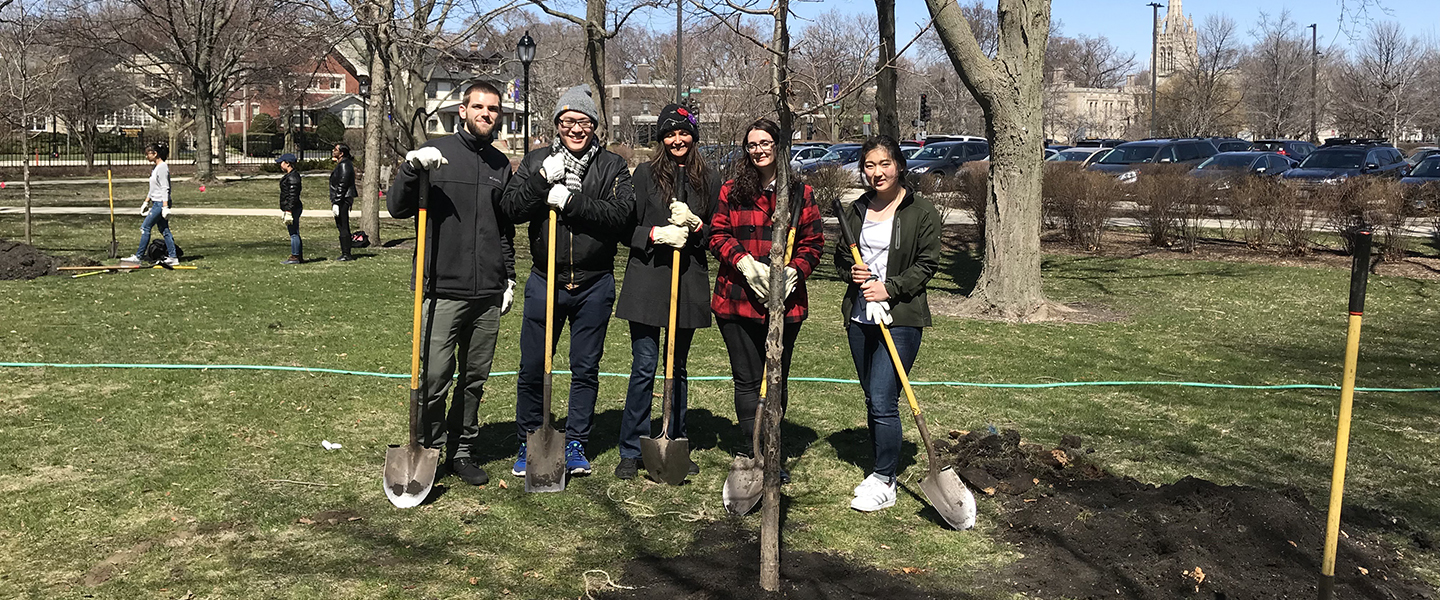 Tree Planting Event Celebrates Arbor Day and Earth Month
Nine oak trees were planted on Northwestern's campus in celebration of Arbor Day on April 27. Undergraduate and graduate students, staff members, and members of the greater Evanston community gathered near Lunt Hall and welcomed spring by planting the new trees. This event was a part of Northwestern's April Earth Month celebrations, which included more than a dozen events involving more than 700 people.
Arbor Day, which translates literally to "tree day," is an American tradition that dates back to 1872, when it was first celebrated with the planting of approximately one million trees in Nebraska. Today, it is a nationally recognized holiday that serves as a celebration of trees and a reminder of their importance.
The presence of trees in cities reduces smog formation and cools rising temperatures. In fact, it is estimated that a single tree can produce the same cooling effect as 10 room-sized air conditioners. Trees also filter polluted air, provide shade from solar radiation, and absorb carbon dioxide, contributing to a healthier environment and combating global warming.
The positives do not end there. Trees are not just crucial for combating pollution and climate change, they are also scientifically proven to improve people's health and happiness. According to The Atlantic, the natural air filtration performed by trees saves almost $7 billion in annual health costs in the United States.
"Trees, in general, make people feel better," said Northwestern landscape architect Ann Ziegelmaier, who, along with Steve Camburn, played an integral role in the Arbor Day event.
Camburn, the foreman of the landscape shop, said the goal of the tree planting initiative is to replenish the existing wooded areas on the Evanston campus, as well as raise awareness of and interest in urban forests. Over the years, Northwestern has lost considerable green space to construction. Planting trees helps to restore some of the oak groves that once existed in the area.
"We used to have three major oak groves on campus," Ziegelmaier said. "As construction of new buildings has progressed, we only have one left, on south campus."
Ziegelmaier also explained that the composition of the soil on campus is sandy, which is a good fit for oak trees. She added that in the past other species like maples have been planted, but have not fared as well due to the soil composition of campus. This year on Arbor Day, only oaks were planted in an attempt balance out the mix of tree species on campus, and to provide a long-lasting and sustainable impact.
Participants enjoyed the opportunity to connect with nature while adding to Northwestern's urban forest. Eric Long is an academic affairs assistant in the Graduate School who participated in Northwestern's Arbor Day event along with several coworkers.
"I feel that Arbor Day is an important but often overlooked holiday, said Long." "I thought it was important to organize a group of colleagues to celebrate this day by planting trees on campus. Personally, tree planting makes me feel connected to the environment in a special way—I am providing a space for plant life to grow and flourish and positively impact our environment," he said.
"Also, I now know the exact spot of the tree I helped plant and am looking forward to walking by and checking in on its progress. I think I, and the rest of my team, were able to feel a connection to the nature around us and see that we all can take even a short amount of time out of our days to do something positive for the environment," said Long.
Medill student Adam Braunstein attended the tree planting and produced a short video about it for a class assignment, and he agreed to share his video with sustainNU. Watch the video below to see tree planting in action and hear from participants and sustainNU staff members.