Earth Month
Northwestern celebrates Earth Day throughout April with events designed to engage the University community in issues of environmental sustainability. 
Earth Month 2021
sustainNU invites you to connect with the Northwestern community through a virtual celebration of Earth Month. Wherever you are, you can reduce your impact, connect to our planet, and be a part of a collective effort to celebrate the Earth.
To make sure you don't miss any of these opportunities and to receive Earth Month announcements, invitations and news articles, subscribe to the sustainNU newsletter here. 
Tree Planting
When:  Thursday, April 29, 10 am - 12 pm
Where: Sheridan Road, near campus
Plant trees with us! In celebration of Arbor Day, sustainNU will be partnering with the City of Evanston and Gateway Green to plant 10 trees along Sheridan Road. Participation is limited so sign up now. Additional details will be shared with participants when registration is finalized. 
Sustainability Trivia
When:  Thursday, April 22, 5:00 - 6:00 pm
Where:  Zoom & Kahoot!
What type of plastic is most commonly recycled? When was the EPA's Office of Environmental Justice established? How many LEED-Gold-certified buildings does Northwestern have? If you know the answers to these questions, show off your sustainability expertise and win prizes at our trivia night!
Environmental Photo Contest
Deadline for submission: Thursday, April 22nd
Are you a self-proclaimed shutterbug and environmentalist? We want to see what sustainability looks like in your everyday life through your lens. Submit your environmentally-themed photos to win prizes! This contest is open to anyone in the Northwestern University community. 
Categories:
Environmental Justice: This category includes photos that highlight activism for marginalized communities who are experiencing environmental racism or photos exposing environmental injustices
Environmental Sustainability: This category includes all forms of sustainability:  alternative energy, sustainable forms of transportation, waste reduction & recycling, etc.

Example: 

Nature: This category includes photos that highlight the beauty of Mother Earth, such as photos of wildlife, greenery, lakes, mountains, urban parks, or our connection to the land

Example: 
Stop Food Waste: This category is sponsored by Northwestern Dining in honor of Stop Food Waste Day.  Submit photos that depict ways you can reduce food waste such as growing plants from food scraps, composting, how you meal prep, etc. NOTE: this category will be judged and awarded by Northwestern Dining.

Example: 
Three finalists from each category will be chosen by the sustainNU team and one winner from each category will be determined through a poll open to the public. Winners will be able to choose from a predetermined list of prizes.
Looking for new books to add to your library? Compiled with suggestions from our Northwestern community, sustainNU has created a reading list on Goodreads. Pick a book today to learn more about the Earth and how to protect our planet and the beings inhabiting it.
If you have any books you would like to add to the list, you can do so here.
Community Solar Ribbon Cutting
When:  Monday, April 19, 11:00 am
Where:  Zoom 
Attend a virtual ribbon cutting featuring Clearway Community Solar's first solar project in Boone County, IL. Northwestern has a long-term commitment with Clearway to support the development and construction of 16 community solar projects in Illinois. The agreement also represents a significant step towards bringing green jobs and clean, renewable energy to Illinois. 
Planting Workshop with Wild Roots
When:  Friday, April 16, 4:00 - 5:00 pm
Where: Zoom & Limited in Person
Celebrate Earth Month by growing a green thumb! Learn about growing your own food using seeds and food scraps with Wild Roots and get a video tour of the hydroponic garden in Allison Hall with Northwestern Dining. This workshop will be a hybrid event, occurring online and in-person. In-person attendance will be limited due to COVID-19 restrictions, so spots will be reserved on a first come, first serve basis. Planting materials will be available for those attending in-person, and limited supplies will be available for pickup by virtual attendees. Participants are welcome to use their own materials.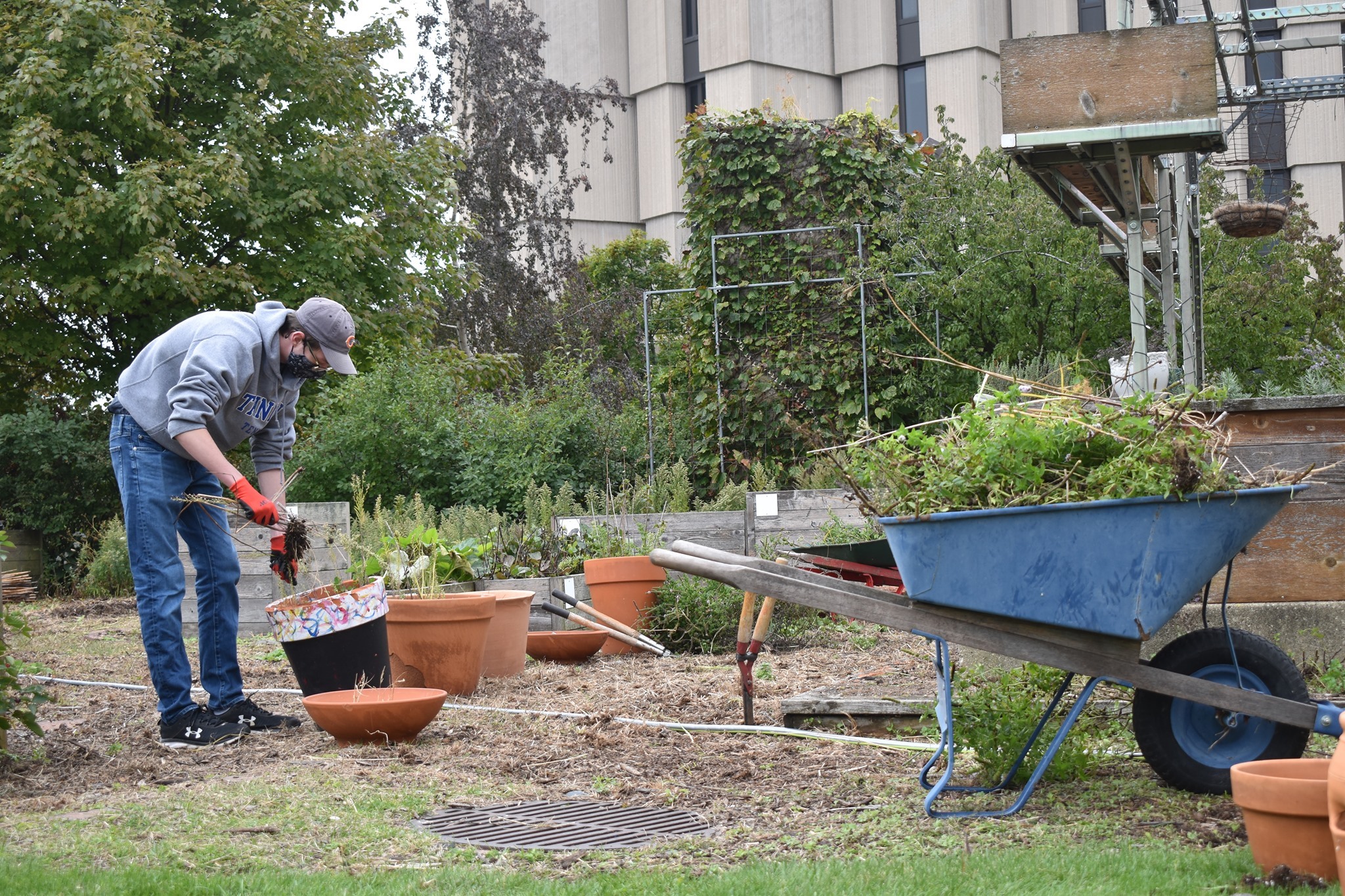 Image courtesy of Wild Roots
Past Earth Month Events
Earth Month 2020: Connections
A series of nationwide "teach-ins" characterized the first Earth Day, held April 22, 1970. At that time, climate change and sustainability were not yet part of the lexicon but concern for the environment was building. Northwestern hosted the first teach-in, establishing a model for the day that has become synonymous with the environmental movement. Project Survival, as it was called, was held on January 23, 1970.Earth Month newsletters will be released every Monday throughout April. The event is well documented by Northwestern University Archives, with artifacts, press clippings and recordings from the event. Explore the Project Survival archives page, particularly the newly digitized recordings of the event, to experience a bit of this Northwestern history.
Learn more about Project Survival and follow our weekly updates on the sustainNU News page. New articles, activities, and opportunities will be added weekly. Check back for more!
Walking through the Weber Arch on the Evanston campus, you are instantly enveloped in the tree canopy. "Northwestern's tree canopy is filled with, not only an amazing variety of trees, but some that predate the University itself," said Steve Camburn, Grounds Supervisor. Through this article you can learn about our trees, their benefits, and then share your own tree stories on social media with the hashtags #NorthwesternsTrees or #NUEarthMonth2020. While we celebrated Arbor Day 2020 apart, we can still reflect on the role trees play in our Northwestern experience.
When: April 30th,  4:30 - 5:30 pm
Where: Zoom & Kahoot!
How: Register here!
Come to sustainNU's live Earth Month Trivia Night! Trivia questions will focus on topics including Resource Conservation, Alternative Transportation, Built Environment, Sustainability at Northwestern, Climate Change, and Nature & Wildlife. The top three participants will receive sustainNU prize packs including reusable items, gardening supplies, and sustainNU swag. Please pre-register as spots are limited to 200 people. If you want to practice testing your knowledge and get a leg up on the competition, check out sustainNU's Twitter and Instagram for weekday trivia questions. A portion of these questions will be included within the live trivia game!
Northwestern's Campus Ecochallenge
When: Challenge runs April 1 – 30  
Join Northwestern's Earth Month 2020 Team! You don't need to be on campus to take action to protect our planet this Earth Month. From April 1 through April 30, students, staff, and faculty are invited to participate in Northwestern's Campus EcoChallenge. The Campus Ecochallenge is a fun and social way to take action on the issues you care about, connect with the Northwestern community, and compete to make the biggest impact!  You can make a difference through actions aimed at improving your community, energy use, food sustainability, health, connection to nature, lifestyle simplicity, and water conservation. The top three participants with the highest impacts at the end of the challenge will receive a prize! Stay tuned for more information. Rally your friends, mobilize your student group or office, and let's see what kind of collective impact Northwestern can make this April!
Earth Month Gallery
When: Submissions eligible April 1 – 30 
Do you have a piece of art, research, poem, story, dance or project that is related to the environment or sustainability? Northwestern students, staff and faculty are creative, passionate and innovative, and sustainNU is excited to showcase your amazing projects.  Let's share the ways we contribute to a better understanding and appreciation of our natural world. The gallery will go live on April 6 and be curated and updated weekly with new submissions, for  all to enjoy. Select projects will be highlighted in weekly newsletters and sustainNU's social media feeds.

Submission guidance and eligibility: Any creative, scientific or personal project qualifies for this gallery if it relates to the environment, nature or sustainability in any way. Submissions are accepted anytime throughout April, but you are encouraged to submit them earlier in April to have your work featured in in our Earth Month newsletters and social media.
Examples of great submissions include, but are not limited to:
A short talk on your research on microgrid technology
A reading of your poem about the first time you saw redwood trees
You performing an interpretive dance about nature you choreographed 
Video showing your wildlife artwork with you explaining its significance
A how-to video teaching a sustainability related skill like gardening, recycling or creative reuse
A video tour of some of the sustainability features and actions you take in your home
You performing a song which was inspired by nature (original or otherwise) 
To qualify for submission, please create a video of your work, no more than 10 minutes in length, and upload it to YouTube. Then, complete this google form with a link to your video and some basic information about your submission. If you have any questions about the Earth Month Video Gallery project, please reach out to sustainNU@northwestern.edu.
sustainNU's 2020 Earth Month Reading List  
When: April 1 – 30  
20 books to check out (virtually) this Earth Month! Our book recommendations feature books available for free online through local and Northwestern's libraries and available for purchase to add to your home library. While we are staying indoors, now is the perfect time to pick up a new book to celebrate the beauty and history of our planet and learn about ways to protect the environment.  
When: New projects highlighted every Monday!
Become the researcher and help contribute to scientific study! Each week, sustainNU will highlight two research projects on biology, climate, history, nature, social sciences, and/or outer space.  
If you contribute to one of the projects, let us know on social media with the hashtag #NUEarthMonth2020. Check out all the projects here!  
Waste Matters: Webinar
When: View the recording here.
What's in Northwestern's waste stream? How can we help take action to reduce what goes into the landfill? What even goes into the recycling bin and how can we help reduce our collective impact? Join sustainNU on April 14th for this one-hour webinar to dive into Northwestern's waste stream and understand how we can keep things out of the landfill through recycling and reduction efforts. This webinar is specifically for staff and faculty as it covers academic and administrative buildings. Participants will be equipped with the knowledge to not only help Northwestern reach our sustainability goals, but also better understand how to reduce their own personal impact through a mini wastebasket audit.