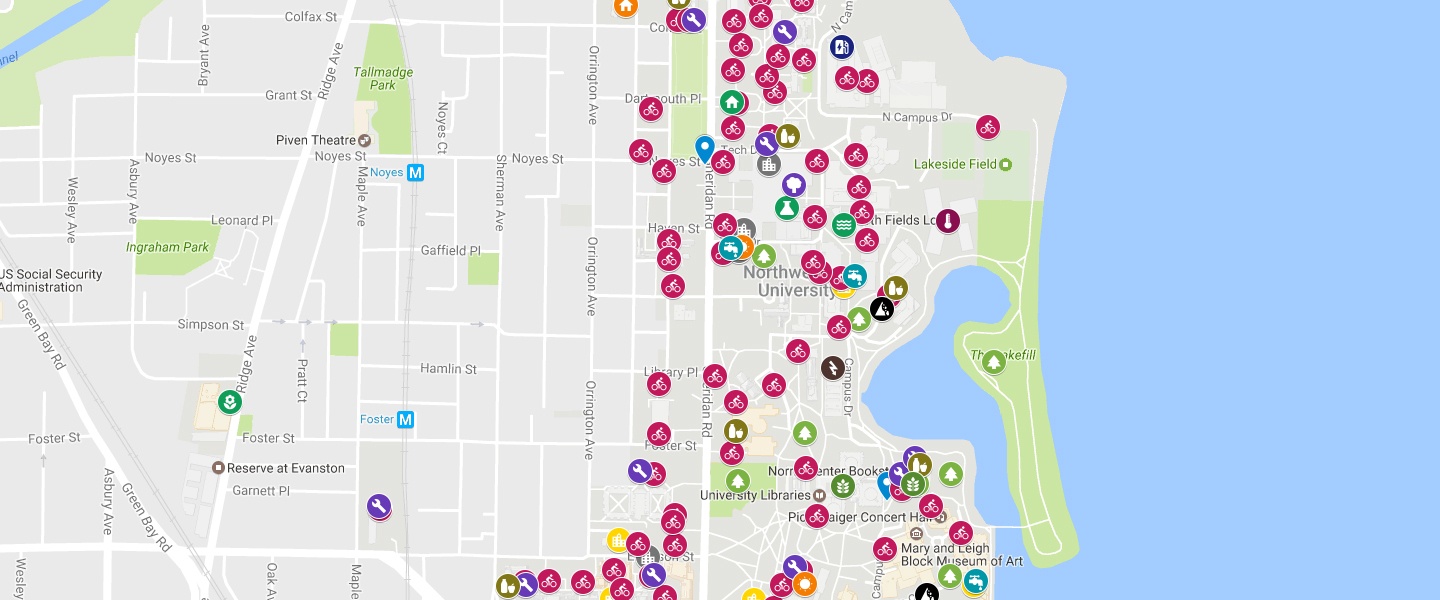 Explore Sustainable Campus Features with a New Map
Learning about the sustainable features of Northwestern's Evanston campus just got easier with the launch of a comprehensive online Sustainability Map. The map recently went live on the University's campus maps web page for use by students, faculty, staff, and visitors.
The Sustainability Map draws attention to features that make the Northwestern campus environmentally friendly. It includes useful points of interest such as the locations of Divvy bike share stations, recycling hubs, green spaces, photovoltaic solar arrays, electric vehicle charging stations, and geothermal systems. Features on the map are accompanied by brief text explaining how they contribute to a more sustainable campus.
Highlights include University buildings that have achieved Leadership in Energy and Environmental Design (LEED) certification from the U.S. Green Building Council. Our LEED Gold Sailing Center offers an opportunity to experience the lake in a different way via paddleboard or kayak during warmer months. The LEED Silver Ford Motor Company Engineering and Design Center was the first building on campus to earn LEED certification. It incorporates energy saving elements such as a design allowing natural daylight to reach 75 percent of the building's interior and a 16.8 kilowatt photovoltaic solar array on the roof.
The map also highlights many of the green spaces around campus where students, faculty, staff, and visitors can relax and reconnect with nature. One of these is the Shakespeare Garden, located in the center of campus, behind the Ford Engineering and Design Center. This garden is a peaceful place to unwind. For irrigation, the garden uses rain water collected in a retention basin beneath the Ford building.
The release of the map comes just in time for Earth Month activities. On April 22, the Associated Student Government Sustainability Committee (ASG SusCom) will use the map as the basis for a sustainability scavenger hunt. The event will be a fun competition that challenges students to use the map to locate various green features of the Evanston campus. There will also be guided tours for faculty and staff to get acquainted with the sustainable features of campus as a part of April Earth Month celebrations. Keep an eye out for upcoming tour dates and times.
The sustainNU team is now working to create a similar map of the Chicago campus. The maps are intended to offer a tool for exploring campus from a new perspective, calling attention to sustainable features that might otherwise go unnoticed, and connecting people to the campus environment in new ways.