Campus collaborates to develop sustainability plan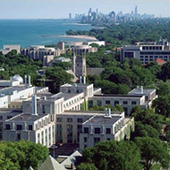 Northwestern University has undertaken an ambitious effort to create a Strategic Plan for Sustainability with the goal of establishing NU as a national leader in our curriculum, operations, and how we engage our students, faculty, staff, and the communities around us. The Sustainability Council is comprised of Deans and leadership from all of NU's schools and many of our core departments, including Student Affairs, the Institute for Energy and Sustainability (ISEN), Athletics, and Facilities Management. 

The council has met twice and has created five Working Groups comprised of more than 100 students, faculty, and staff members. They have been tasked with evaluating areas of focus, assessing and prioritizing various initiatives within those areas, and establishing clear goals and metrics to evaluate our progress. Their recommendations will inform the Council who will, in partnership with University leadership, publish the Sustainability Strategic Plan Summer 2015.

The Working Groups are as follows:
Energy, Infrastructure, and Greenhouse Gas Emissions
Transportation
Resource Conservation and Food Programs
Engagement and Communications
Curriculum and Research
Learn more about the Sustainability Council, the Working Groups, or the Strategic Plan for Sustainability. If you have questions, please contact Rob Whittier.