Spring is here, let's Bike2Campus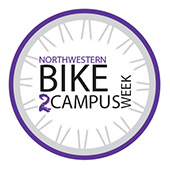 Chicago Bike2Campus week is back! From April 20 - 24, students, staff, and faculty from several Chicagoland higher educational institutions will participate in this competition that emphasizes safety, reducing carbon emissions, practicing a healthier lifestyle, saving money, and having fun.
Join in the competition by riding your bike and logging your rides. Any ride counts, whether it's to public transit, a full commute, an errand, or a fun ride. Riders will be awarded prizes including Chipotle and Pret a Manger gift cards, Divvy bike passes, bike locks, a bike helmet, Intelligentsia coffee, a bike pump, bike lights, and more. Prizes will be drawn daily and anyone who has logged a ride will be eligible. You can also increase your prize potential and learn safe cycling skills by taking the Illinois Bike Safety Quiz. Take the quiz, post your completion certificate on the sustainNU Facebook page, and you'll be eligible to win. Sharing your cycling photos on Instagram with the hashtag #chibike2campus gets you in additional prize drawings. Bike2Campus is part of NU's Earth Week celebration. Don't miss the Evanston Bike2Campus Pit Stop on Tuesday, April 21 from noon - 2:00 pm in front of Jacobs Center for basic bike maintenance from a Wheel and Sprocket Bike Mechanic and an opportunity to get your bike washed. Safe Cycling in Chicago brochures will also be provided.
The Chicagoland Bike2Campus Coalition (CB2CC) organized the competition and is made up of staff members from Northwestern University, the City Colleges of Chicago, Columbia College Chicago, Dominican University, Illinois Institute of Technology, Loyola University Chicago, Northeastern Illinois University, the School of the Art Institute of Chicago, Roosevelt University, Triton College, The University of Chicago, and the University of Illinois at Chicago. The mission of CB2CC is to promote cycling as a fun, healthy, and sustainable mode of transit on (and between) our campuses, in our communities, and in the region. Northwestern came in third place last year with the School of the Art Institute winning the competition. The winner receives a trophy, cycling glory, and bragging rights.

If you want to learn more about the benefits of cycling, check out the Bike2Campus riding resources. If you're new to cycling, the Safe Cycling In Chicago pamphlet has a lot of great tips including buying a bike, getting comfortable with traffic, fitting a helmet, locking and maintaining your bike. Be sure to always ride with a helmet, use lights when riding after dark, use a lock, and remember bikes are illegal on the sidewalks! There are seven bike repair stations on the Evanston campus where you can pump up your bike tires, adjust your seat height, brake cables, or derailleurs, or change out a tire. And if you're sad to see Bike2Campus come to a close on April 24, don't fret, Bike to Work Week is June 12 - 19!
Bike2Campus received generous support from sponsors DIVVY Bikes, Chipotle, Planet Bike, Abus Locks, Kryptonite, Bern, Intelligentsia Coffee, Chicago Symphony Orchestra, Pret a Manger, Freeman Kevenides Law Firm, Pedal to the People, Working Bikes, Kozie Prery, MB Financial Bike the Drive, and the Chicago Department of Transportation.